Code/Archives
Notes about coding: PHP, HTML, CSS, JavaScript, WordPress, etc.
The Delicious Playtagger seems to be gone, for now, maybe forever– possibly due to Yahoo! revisions to the Delicious service. Here's a quick fix (version 0.1; check back: will write a better one later): playtagger_mod.zip
This uses the same Delicious audio player (playtagger.swf) and images (stop.gif, play.gif), with a revised JavaScript (playtagger_mod.js). It lets you store the files locally. (Also adds a class to the image: "mp3″ for CSS styling, courtesey Consuming Experience. Plus you could create your own play/stop icons.).
To get 'er goin':
Unzip playtagger_mod.zip and upload to your site the folder: playtagger_mod
In the file: playtagger_mod.js.
Change the variable at the top: playtagger_url.

from: http://YOUR_DOMAIN.COM/PATH_TO_FOLDER/playtagger_mod/.
to the URL of your uploaded /playtagger_mod folder (needs trailing "/").

In the <head> of any files you want the Playtagger- Mod to work, place:

<script type="text/javascript" src="http://YOUR_DOMAIN.COM/PATH_TO_FOLDER/playtagger_mod/playtagger_mod.js"></script>

(Again, replace http://YOUR_DOMAIN.COM/PATH_TO_FOLDER/playtagger_mod with the URL of your /playtagger_mod folder.)
Should be good to go. The Playtagger- Mod script looks adds a little Flash audio-player mext to any mp3 links on your page. Looks/works like this:
Specialist "Laser" Lawrence (2:08; audio: Jake Warga, Iraq: Soldier's Soundtrack.)
UPDATE: Playtagger- Mod is now working in the wilds of the great WFMU's Beware of the Blog.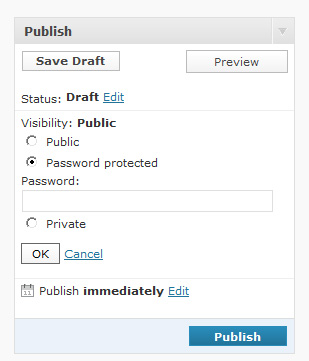 Password-protecting a WordPress Post/Page hides its Content and Excerpt, but not its Custom Fields: those can still show. Below are ways to hide 'em, and functions for customizing the default WP Password-Protected messages.
Password-protect a Page/Post
Setting the Visibility to Password-protected changes the:
Title– Adds this string "Protected: ", to the output of get_the_title().
Excerpt– Returns this text when we get_the_excerpt(): "There is no excerpt because this is a protected post."
Content– Returns a password form (w/ text) when we get_the_content().
Technologists have identified the moment of conception, the instant life begins… for WordPress, that is.
Mike Little pinpoints this 2003-01-24 Matt Mullenweg blog-post as WP's birth — Matt later updated it with: "This became WordPress."
Sez Matt in this seminal posting:
My logging software hasn't been updated for months, and the main developer has disappeared, and I can only hope that he's okay. What to do? Well, Textpattern looks like everything I could ever want, but it doesn't look like it's going to be licensed under something politically I could agree with. Fortunately, b2/cafelog is GPL, which means that I could use the existing codebase to create a fork, integrating all the cool stuff that Michel would be working on right now if only he was around. The work would never be lost, as if I fell of the face of the planet a year from now, whatever code I made would be free to the world, and if someone else wanted to pick it up they could. I've decided that this the course of action I'd like to go in, now all I need is a name.
To which Mike commented:
If you're serious about forking b2 I would be interested in contributing. I'm sure there are one or two others in the community who would be too.
Now WP is an .org, a .com, and a company called Automattic — whose workers have titles like Quantum Bug Creator, Outernationalist, and Happiness Engineer. Scott Berkun, their Anti-Chief of Non-Contradictions, recently revealed "How is WordPress.com made?." It rundowns WP's distributed ops, with an HQ in SF, CA, but most of their flock found around the globe:
Coders, complete this sentence:
Some responses:
…when I was 11 so that I could beat my dad at Robot Battle.
…on the back side of punched cards on a UNIVAC 1100 as an intern at the Swedish Defence Central in the late 70s.
…making a website for my band that I wanted to be more dynamic.
…because I believed (and still do) it's one of the best skills to have in order to change people's live for the better.
…and it changed my life forever.
I learned to program… is a project of Ben Chun, who posted this call to coders on wp-hackers (WordPress maillist):
I'm a high school computer science teacher and I often have students who
want to hack on things like WordPress or other open-source projects, but they don't see a path from where they are to that goal.

So I started a web site for sharing how and why people started programming. Will you share your story? http://ilearnedtoprogram.com.

As the site has gotten more entries, I've been reminded of a bunch of fun things from my childhood. Maybe you'll enjoy a trip down memory lane as well.
For more, see Ben's post, "How did you learn to program? « And Yet It Moves."
(FWIW, my answer:
I learned to program… to make web presentations of our public radio stories — now I do far more web and far less radio.)
Hearing Voices uses the WPAudioPlayer plug, which, since it's Flash, the iPhone can't see. But iPhone Safari is HTML 5
aware, and supports mp3 play. So here's our quick&filthy fix. In the file: /plugins/audio-player/audio-player.php, find the: function getPlayer, and w/in that the variable: $playerCode. More…
Hand-crafting Excerpts for Pages got a lot easier in in WordPress 3+. Put this in your functions.php:
add_post_type_support( 'page', 'excerpt' );
And voilà, an Excerpt textarea should now show on your Edit Page screen (make sure "Excerpt" is checked in Edit Page»Screen Options). To extract Pages' Excerpts…
Inside a WP loop (e.g., query_posts()), you can use the_excerpt() (or the_excerpt_rss()):
<?php query_posts( 'post_type=page' );?><br />
<?php if ( have_posts() ) : while ( have_posts() ) : the_post(); ?></p>
<h3><a href="<?php the_permalink() ?>"><?php the_title(); ?></a></h3>
<p>	<?php the_excerpt(); ?><br />
	<?php endwhile; else: ?></p>
<p>Yer lame-ass Loop is Post-less.</p>
<p><?php endif; ?>
Outside the loop, get_pages() will git 'er done:
<?php<br />
$pages = get_pages();<br />
foreach ( $pages as $page ) : 	?></p>
<h3><a href="<?php echo get_page_link($page->ID); ?>"><?php echo $page->post_title; ?></a></h3>
<p><?php echo $page->post_excerpt; ?></p>
<p><?php endforeach; ?>