HV/Archives
Hearing Voices- Audio, Web, Video, News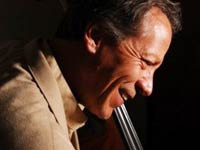 Jazz Bass- Kelly Roberti (1:21 mp3):
"The first time I heard Charley Parker I thought heard Be-Bop, like Charlie Parker with Miles Davis, it killed me. It was like: What is this chemical stuff?"
Our weekly hour series, Hearing Voices from NPR, has come to its end of days.
Many of the 150 outstanding HV hours will live on in the PRX archives.
Many thanks:
We've had a blast assembling the work of indies and NPR into these "sixty-minute streams of driveway moments." We're proud of our Peabody and other awards. We've loved the thousands of emails and site comments listeners have sent us. But all good things…
So, to you, our site visitors: Thanks for helping propagate outrageous radio.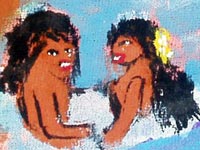 Hearing Voices from NPR®
142 Solidod: An Apache Original
Host: Larry Massett of Hearing Voices
Airs week of: 2012-09-26
"Solidod" (52:00 mp3):
"Solidod: An Apace Original" (2012 / 52:00)
Larry Massett
The Life and Times of Solidod, the last remaining member of her village of Mescalero Apache who lived on the edge of Death Valley. HV editor Larry Massett helped our friend Solidad publish her new e-book, An Apache Original: The Life and Times of Solidod
.
Larry composed and performed the piano music in this radio hour.
Solidod is in her 80s and tells about 300 years of her life stories in the book. Here's an excerpt from Larry's…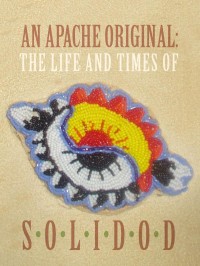 Introduction

When I first met Solidod she was living alone in a tiny room in a rather depressing subsidized-income apartment complex in Florida. She herself was anything but depressing, though. A few minutes after we met she showed me the little knife she carries with her in her buckskin purse. "But Solidod," I said, "that's kind of a dangerous knife, isn't it?" I said- meaning, dangerous for an 80-year woman. "Yeah, it's sharp," she laughed, "but it would be better if it was rusty. So the cut would get infected in case I stab somebody."

Wow, tough lady. Tough, but also funny, curious, brimming with energy, and a world-class storyteller. As she told me about the adventures of her life I realized she's been everywhere and done just about everything: horse-trainer, bodyguard, trans-Atlantic sailor, carpenter, gardener, artist, you name it. And she's busy. She spends her days zipping around town selling the t-shirts she paints and the jewelry she makes, checking on old friends and chatting up new ones. Most people her age seem to be winding down; Solidod's just getting started…
Several of Solidod's paintings grace the book's pages. The e-book
is in Kindle format: Amazon make a free Kindle Reader for nearly every computer, tablet, smartphone, and web browser. More…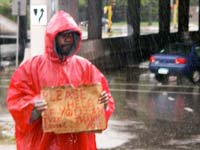 Hearing Voices from NPR®
116 Homeless: Living on the Streets
Host: Barrett Golding of Hearing Voices
Airs week of: 2012-09-19 (Originally: 2011-06-01)
"Homeless" (52:00 mp3):
The voices of people who were or are homeless:
Land of 10K Homeless is a Minneapolis music-audio documentary project by Voices of the Streets, "An Artistic Portrayal of Homelessness in Minnesota." Thier "website of artistic activism provides a space for the disadvantaged to share their stories." Producer Danny Burke created this mix of the main theme, blended with interviews with individuals staying at a family shelter in Minneapolis.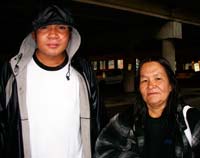 The string arrangement was written and produced by Brian J. Casey and Danny Burke of the Skeptics, and performed by the Arlington String Quartet (Matthew Knippel, cello; Conor O' Brien, violin; Gabriel Platica, violin).
After leaving the Marines, George Hill became addicted to drugs and alcohol. He soon found himself on the streets of Los Angeles, homeless for 12 years. But the kindness of another homeless man changed everything. Hill is now off the streets, working for the U.S. Department of Veterans Affairs, and pursuing a computer information systems degree at Cal State University. Recorded in Santa Monica, CA; part of StoryCorps' Griot Initiative.
A portrait of the self-named, Crazy John, who lives on the streets of Austin, Texas. He tells writer Carmen Delzell about his life. Carmen was homeless for a couple of years in the early 1990s. This piece was made after she got on her feet and was living in Austin. Produced by Jay Allison (PRX).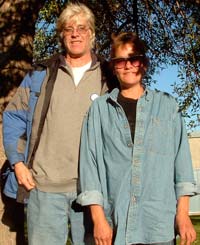 "Bill Speaks" (2008 / 2:24)
The Land of 10,000 Homeless
An interview with Bill, recorded near the Dorothy Day Center homeless shelter, St. Paul MN. Andrew Turpening, the Land of 10K Homeless Artistic Director, composed the music and produced the piece.
The producer spends a night at a church homeless shelter in Washington DC.
A profile of life on the streets for homeless youth told through the experiences of 21-year-old Miracle Draven, Portland OR. Original music by Craze MC. (Longer version at PRX).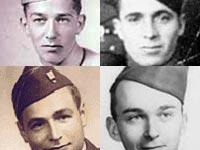 Hearing Voices from NPR®
128 Prisoners of War: Battle of the Bulge
Host: Erica Heilman of Vermont Folklife Center
Airs week of: 2012-09-12 (Originally: 2011-12-14)
"Prisoners of War" (52:00 mp3):
Four American soldiers share their WWII experiences, before, during, and after their time in a German POW camp:
Produced for the Vermont Folklife Center: In December 1944 the Allies were closing in on Germany. Hitler had a desperate plan to save the Third Reich, a massive assault he believed would so demoralize that the Allies, they would seek a separate peace, leaving only the Russian army on the eastern front. On December 16 the Germans unleashed an offensive that would become the most brutal battle of the European war: the Battle of the Bulge. Nineteen thousand Americans were killed, about the same number were taken prisoner. We hear from four Americans soldiers about their time in — before, during and after — a German POW camp: Cliff Austin, Harrison Burney, Bill Busier, and Robert Norton.
VFC Radio published a transcript and a CD of "Prisoners of War." Harrison Burney wrote "From The Bowels of Hell, a soldier's memoir of World War II, 1944-1945 (143k PDF). Music: "Reitba" and "Concerto No. 3 for Double-Bass and Piano," composed and performed by cellist Francois Rabbath; "String Quartet in C Major", the second movement in the "Emperor" by Franz Joseph Haydn, performed by the Concord String Quartet
; and "St James Infirmary" from pianist Allen Toussaint's The Bright Mississippi
.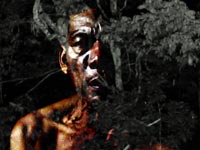 Hearing Voices from NPR®
141 Ayahuasquereos: Amazon Shamans
Host: Jeremy Narby of Soundwalk Collective
Airs week of: 2012-09-05
"Ayahuasqueros" (52:00 mp3):
An anthropologist's sound-portrait of the ayahuasca plant and the people of Peru:
In May of 2012, Soundwalk Collective traveled into the heart of the Peruvian Amazon to document the ancient chanting rituals of the Ayahuasquero, the Master Shaman and practitioner of plant medicine. In this ritual, the shaman consumes a potent brew made from the Ayahuasca, a sacred vine of the Amazonian jungle, the "vine of the souls". The brew induces a powerful psychedelic experience that causes visual and auditory hallucinations.
It is in this state that the Ayahuasquero conjures the "icaro" or magic song.
The icaro is more than song, it is a language through which the shaman communicates with the spirits of plants and animals of the jungle — he speaks through them and they sing through him. There are more than a thousand icaros, through which Ayahuasceros call on the spirits for healing, protection, or attack. Icaros can stun a snake, cure a bite, call the soul back to the body, make a sorcerer fall asleep. Icaros are "pure sound," melodies abstracted so as to become intangible, to become air. In this intangible and most powerful form icaros allow shamans to swallow darts, visit distant planets, call the rainbow, and kill.
Blowing, rattling leaves and singing are synergistic modes of sound that are, at once verbal, unintelligible and abstract — elevating the song to something transcending language. This piece by Soundwalk Collective documents the ancient practice by inhabiting the Ayahuasquero's soundscape where the icaros become a visceral, haunting, and consuming listening experience.
"Ayahuasqueros" is a radio essay by anthropologist Jeremy Narby, in collaboration with Francisco Lopez, featuring Victor Nieto and Ushamano Walter Martinez. It was ommissioned by Radio France Culture, mixed by Dug Winningham, and produced by Soundwalk Collective: an international sound-art collective, winner of several Audies for their soundwalks and a Dalton Pen award for the Ground Zero w/ Paul Auster. Since 2000 they "have been sonic nomads, embarking on journeys from the desolate land of Bessarabia to the desert of Rub al Khali. By exploring and documenting the world around them through its sounds, the Collective abstracts and re-composes narrative sound pieces through fragments of reality to form distinct audible journeys."
AYAHUASQUEROS (Preview) from Soundwalk Collective on Vimeo.
Film by Stephan Crasneanscki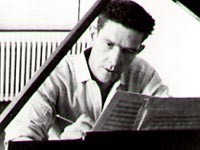 Hearing Voices from NPR®
140 John Cage: September 5 1912 – August 12 1992
Host: Barrett Golding of Hearing Voices
Airs week of: 2012-08-29
"John Cage" (52:00 mp3):
A tribute to the composer on his 100th birthday:
From a half-hour radio play, commissioned by CBS, written by poet Kenneth Patchen and scored by Cage. Broadcast May 31, 1942 on WBBM radio station (Columbia Broadcasting System in Chicago), as part of their Columbia Workshop series. Performance by Xenia Cage, Cilia Amidon, Stuart Lloyd, Ruth Hartman, Claire Oppenheim and John Cage conducting.
A voxpop variety of folk answer the musical question: "Who's John Cage?"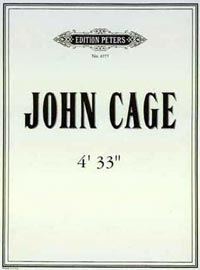 "Imaginary Landscapes" (2008 / 5:07)
Echoes
Few contemporary composers had the influence of John Cage. From experimental music to minimalism, Brian Eno to George Winston, echoes of John Cage continue to resound to this day, more than 6 decades after his "Sonatas and Interludes for Prepared Piano" were first published. John Cage was a conceptualist of sound who turned even silence into music as he did with his famous piece, 4 minutes and 33 seconds. John cage died from a stroke in August of 1992. But we hear his thoughts in sound from a 1987 interview. From the series Echoes with John Diliberto, part of their Thoughts in Sound specials.
Pianist Stephen Drury performs a 1948 Cage composition; the title track of the album In a Landscape
From the collection A Chance Operation: The John Cage Tribute (this UbuWeb link has free downloads of the entire CD set).
"Cage, Cunningham: Collaboration" (1983 / 5:27)
Jay Allison
An impressionistic illustration of synchronistic artistic cooperation, in the words of Cage and choreographer Merce Cunningham. Interviews by Katie Davis, from Jay Allison's series Living in the Arts.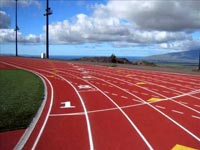 Hearing Voices from NPR®
139 Sports Report: Athletic Endeavor
Host: Barrett Golding of Hearing Voices
Airs week of: 2012-08-22
"Sports Report" (52:00 mp3):
The producer's wife likes to swim at night, far out into the lake. She was taught long ago how to effortlessly, and beautifully, skim across the water. Aired originally on This American Life "Lessons".
Mashup master GHP, aka, Mark Vidler, mixes Queen's sports stadium classic, "We Will Rock You
," with AC/DC, Led Zeppelin, Crowded House and a bit of Beatles, Outkast, and Snoop Dogg. Download off GHP's This Was Pop 2002-2007.
"We Believe We Are Invincible" (9:20)
Ben Rubin
The U.S.A Track and Field Hall of Fame commissioned sound-artist Ben Rubin, of EAR Studio, to make audio art from interviews with athletes.
A gay man gets to know the game. Edited from Mark's essay, Football & the Homosexual Brain.
"Basketball Diary" (1999 / 13:26)
Katie Davis
The producer spent the winter coaching a boys basketball team in her Washington, DC neighborhood. The boys' grades aren't good enough to play for the school, so they join a local church league. And Katie Davis starts more as counselor than coach. Originally aired on NPR. Part of the producers Neighborhood Stories series.
"He Got Game" (1998 / 2:00 excerpt)
From the soundtrack to Spike Lee's film, off the album Power To The People And The Beats – Public Enemy's Greatest Hits [Explicit]
(also: clean version
). Features Voices Of Shabach Community Choir Of Long Island, Stephan Stills and samples from his Buffalo Springfield song, "For What it's Worth
."
Spin class gets personal, with Chet Siegel as Sam, Emily Tarver as Lisa, Ed Herbstman as Kirk. Written collaboratively by The Truth, from a story by Chet Siegel. Special thanks: Peter Clowney, Kerrie Hillman, and Chris Bannon. Recorded at WNYC and on location in New York City. The Truth podcast is produced by Jonathan Mitchell (also on PRX.