Webwork/Archives
Hearing Voices- Multimedia
CJC Photos:

Elephant seal, California's Monterey Bay National Marine Sanctuary.

Humpback whale near Maui, Hawaii.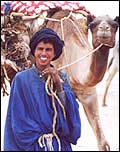 Mali camel herder "On the Edge, Timbuktu."
Roy Sesana, Bushman elder (Kalahari Desert, Botswana), on a hike in the Santa Monica Mountains, "From the Kalahari to Malibu."
---
CJC, EP of Radio Expeditions, on the Rio Tiputini (photo: Flawn Williams).

Splendid with Sound: The audio world lost a great producer today, Carolyn Jensen Chadwick. With her husband Alex she co-founded NPR's Radio Expeditions (article in Current) and produced the Interviews 50 Cents films.
Carolyn was Maya Lin's sound consultant for "What is Missing?" She produced scores of sound-drenched, audio-intense stories for NPR — we've run several, with more coming.
We hope you'll spend an hour soaking in her sonics below. Hubby Alex once described a jungle as "splendid with sound." That phrase also does justice to CJC's enveloping, enrapturing, sometimes ecstatic, and always engaging work.
Master-engineer Skip Pizzi (NPR, Microsoft) would play this first piece at workshops to illustrate how a simple story can be superb, when elegantly enhanced with stereo sound. David Molpus narrates a portrait of "Equestrian Olympian: Bruce Davidson" (1984 / Carolyn Jenson Chadwick, producer / 12:39 mp3):
Radio Expeditions often recorded those who recorded sound, such as Rex Cocroft on "A Journey to the Edge of the Amazon" (2006 / Carolyn Jenson Chadwick, producer / 8:54 mp3):
Among the natural sounds CJC captured were those of human nature, as when her husband Alex pitted wits with the regulars at a small-town casino, playing "Poker at the Ox" (Carolyn Jenson Chadwick, producer; Michael Schweppe, engineer / 9:55 mp3):
The Chadwicks spent time in India charting the Geography of Heaven: Vrindavan. In this first of three-parts, they walked "The Streets of a Holy Hindu City" (2005 / Carolyn Jenson Chadwick, producer; Flawn Williams, engineer / 8:57 mp3):
And in the mountains of Payette National Forest, it's all guns, guitars, guts, and wild game, inside an "Idaho Hunting Camp" (Carolyn Jenson Chadwick, producer; Michael Schweppe, engineer / 12:57 mp3):
We'll miss you, Carolyn.
[Carmen Delzell lives in Mexico, travels to India, and does occasional audio essays for us. Here's another post in her: Bag Lady's Guide to What's Left of the Planet…]
This time alone living in the luxury of Martha's house has helped me relax enough to see myself and my circumstances a little more clearly.
I'm sick of Mexico. Sick of living in fear, of poverty, of the (mostly) assholes I know there and most of all sick of loneliness.
So tonight I've decided to head out into the night with my digital recorder and start doing a story on loneliness. You know, loneliness is probably the hardest thing to admit and for sure the hardest thing to bear.
I was inspired last weekend by a singer songwriter named Steve, who is sadly, dead.
#1 Bar Noise at a place called Buttons.
So here I am again alone in a bar waiting for this Dave Millsap to come on stage and sing the songs of Steve Bruton whose life was loosely depicted in Crazy Heart, the movie with Jeff Bridges.
I actually cried when I saw his beat up old truck drive down one of these breath-taking New Mexico highways because God Damn It that's me driving up from the Matehuala Desert towards Saltillo, Coahuila in my beat-up Jeep and whatever it is that's sent me down those lonely Mexican and New Mexican roads, I'm pretty sure it has something to do with movies like this.
The difference is that I'm a woman and don't play the guitar or paint or anything except live and write about being alienated and sad and, yes, lonely. More…
[Carmen Delzell lives in Mexico, travels to India, and does occasional audio essays for us. Here's another post in her: Bag Lady's Guide to What's Left of the Planet…]
Just imagine, if you can being an old (and you know I don't feel all that old) woman with less than a hundred dollars to her name driving north on Hwy 57 between San Luis Potosi and Matehuala as the sun goes down.
A motel costs 400 pesos. So does a tank of gas.
Children stand by the side of the road holding out live rattle snakes for sale or a wild eagle dangled by its feet.
It's getting dark.
The empty light comes on the dash board. There are no gas stations anywhere.
Food is out of the question till you get to the border; and when you do get there it'll be another six hours to your friend's house where you can sleep for a couple of nights.
[Carmen Delzell lives in Mexico, travels to India, and does occasional audio essays for us. Here's another post in her: Bag Lady's Guide to What's Left of the Planet…]
By Carmen Delzell (Written in 1988 just before I became homeless.)
I never intended to live the way I have.
I thought—in that hazy hopeful time right after graduation and before my foolish marriage that I could be a bohemian, a colorful avant-garde part of the late 1960s and then (I'm not sure when I thought it would actually be) I expected to have a house, go to graduate school and eventually teach at some small liberal arts college somewhere.
I guess I got a lot of these notions from biographies and magazine articles that fell into my hands from my mother's casual (and probably mundane) choice of reading material.
She herself had fancied a similar life and she too found the shock of turning middle aged without it too much to bear.
She died.
I'm hoping I won't have to.
Certainly not yet and hopefully not ever. More…
Reprinted by permission from the (private) AIRdaily:
Today is the 39th Anniversary of the first All Things Considered. The first program included a documentary of the largest anti-war demonstration in history (wikipedia). The demonstrators filled the roads, blocked the bridges and stalled the morning commuter traffic, all in an effort to shut down the government. The demonstrators were met with 10,000 federal troops, 5,000 D.C. police and 2,000 National Guard. By the end of the day, over 6,000 had been arrested, the largest mass arrest in U.S. history.

Reporters fanned out, from the Pentagon to the Mall, recording multiple perspectives of the events as they happened. I directed the program that first day, and we hustled to edit the multitude of voices into a cohesive documentary for the 5:00 ET start time.

What followed was an extraordinary 24-minute, sound portrait of the events as they happened, with the voices of protesters, police and office workers above the sirens and chopping of helicopters. Yes, there were flaws, and yet it stands as probably the best sound record of that historic day.

It also was a strong statement of the intention of NPR to get out of the studio, to use sound to effectively tell stories.
—Bill Siemering
Bill Siemering is Prez of Developing Radio Partners, NPR's first Program Director, and author of their original 1971 mission statement National Public Radio: Purposes. You can hear that seminal DC Demonstrations report at NPR and in our HV hour of Protest. The piece still stands as both a valuable historical document and an example of what radio news can be.
"Today in the nation's capital, it is a crime to be young and have long hair…"
—Jeff Kamen, NPR Reporter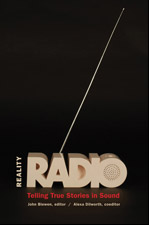 The publshers of Reality Radio have allowed to post a bit of their book. From John Biewen's Introduction:
The goal is to bring together producers with distinctive, powerful, and richly varied approaches to their craft. Some of our essayists call themselves audio artists. They push the boundaries of journalism to the breaking point—okay, beyond the breaking point—in the service of an aesthetic vision but also in pursuit of a different (higher?) sort of truth. Others describe themselves primarily as storytellers, drawing mainly on the narrative power of the spoken word. Still others see themselves as journalists; on the surface, at least, they emphasize information over formal innovation. But the journalistic documentarians, too, give careful attention to form and, in fact, employ plenty of (conventionally sanctioned) artifice along the way.
Here's an excerpt of the essay "Coming Home," by Katie Davis:
A boy rumbles by on his skateboard, says his name is Julio and asks to pet the dogs. Sure. Another twelve-year-old bellows like a carnival hawker, "Hey lady, you got a tire patch?" Sure. And I give Joaquin ten dollars to run to the bike store to buy three patch kits, one for him, and the rest I'll keep for other kids. The super from the building down the street notices the cluster of kids and lugs up two old bikes he found in the alley. And this is how, without planning, I start a recycle-a-bicycle program on my front porch. Everything takes place on my front porch for a long while.

I become known as the "bike lady," the lady who always has granola bars and time to sit and listen. After a year, I form a youth group called the Urban Rangers and begin raising money to pay for bike parts and snacks. Two teenagers ask me start a basketball team. Sure why not? And then as I explain my philosophy to the guys, that winning is not important on this team, and everybody will get to play in every game. "No, no," the boys interrupt and begin coaching me on how to be a coach. The dialogue is funny and that night the rusty part of my radio brain begins chanting, Good tape. Good tape.

So, I call an old friend at NPR and float the idea of writing an "essay with tape" about my team. I warn the show producer that the story will be personal, like a diary, that I break the rules of journalism in every paragraph. I write in the first person and I have not kept any objective distance from these boys. I give money to two brothers because I know they are hungry. I hire another kid's father because they are struggling on $12,000 a year. The boys hang out at my house, they come to tell me about problems. I no longer wanted any distance between me and these neighborhood kids. NPR solves the issue of my status by calling me a commentator. My transition from reporter to commentator took four years of neighborhood porch sitting and trouble shooting and is distilled into this one word.
From Reality Radio: Telling True Stories in Sound, edited by John Biewen.
© 2010 by the Center for Documentary Studies.
Used by permission of the University of North Carolina Press.
Ka
Something beautiful, haunting and appropriate about Jack Warga's photo exhibit "Leaving Iraq:"
Jake was embedded with the 3rd Infantry Division, US Army. He snapped several dozen back-of-head portraits before he left. More Iraq images and audio in Jake's Iraq Xmas 2009 HV posts.