Pubradio/Archives
Readings about radio and other public media.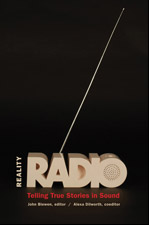 The publshers of Reality Radio have allowed to post a bit of their book. From John Biewen's Introduction:
The goal is to bring together producers with distinctive, powerful, and richly varied approaches to their craft. Some of our essayists call themselves audio artists. They push the boundaries of journalism to the breaking point—okay, beyond the breaking point—in the service of an aesthetic vision but also in pursuit of a different (higher?) sort of truth. Others describe themselves primarily as storytellers, drawing mainly on the narrative power of the spoken word. Still others see themselves as journalists; on the surface, at least, they emphasize information over formal innovation. But the journalistic documentarians, too, give careful attention to form and, in fact, employ plenty of (conventionally sanctioned) artifice along the way.
Here's an excerpt of the essay "Coming Home," by Katie Davis:
A boy rumbles by on his skateboard, says his name is Julio and asks to pet the dogs. Sure. Another twelve-year-old bellows like a carnival hawker, "Hey lady, you got a tire patch?" Sure. And I give Joaquin ten dollars to run to the bike store to buy three patch kits, one for him, and the rest I'll keep for other kids. The super from the building down the street notices the cluster of kids and lugs up two old bikes he found in the alley. And this is how, without planning, I start a recycle-a-bicycle program on my front porch. Everything takes place on my front porch for a long while.

I become known as the "bike lady," the lady who always has granola bars and time to sit and listen. After a year, I form a youth group called the Urban Rangers and begin raising money to pay for bike parts and snacks. Two teenagers ask me start a basketball team. Sure why not? And then as I explain my philosophy to the guys, that winning is not important on this team, and everybody will get to play in every game. "No, no," the boys interrupt and begin coaching me on how to be a coach. The dialogue is funny and that night the rusty part of my radio brain begins chanting, Good tape. Good tape.

So, I call an old friend at NPR and float the idea of writing an "essay with tape" about my team. I warn the show producer that the story will be personal, like a diary, that I break the rules of journalism in every paragraph. I write in the first person and I have not kept any objective distance from these boys. I give money to two brothers because I know they are hungry. I hire another kid's father because they are struggling on $12,000 a year. The boys hang out at my house, they come to tell me about problems. I no longer wanted any distance between me and these neighborhood kids. NPR solves the issue of my status by calling me a commentator. My transition from reporter to commentator took four years of neighborhood porch sitting and trouble shooting and is distilled into this one word.
From Reality Radio: Telling True Stories in Sound, edited by John Biewen.
© 2010 by the Center for Documentary Studies.
Used by permission of the University of North Carolina Press.
Ka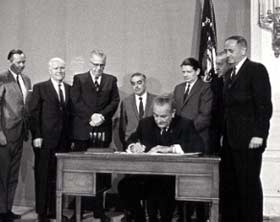 President Johnson signs the Public Broadcasting Act, November 7, 1967
The Public Broadcasting Act of 1967 established the Corporation for Public Broadcasting. "Independent producers" and "independent production" are mentioned sixteen times, including, "a substantial amount shall be distributed to independent producers and production entities…"
Some of my other favorite phrases:
The Congress hereby finds and declares that —

It is in the public interest to encourage the growth and development of public radio and television broadcasting, including the use of such media for instructional, educational, and cultural purposes;

Expansion and development of public telecommunications and of diversity of its programming depend on freedom, imagination, and initiative on both local and national levels;

It is in the public interest to encourage the development of programming that involves creative risks and that addresses the needs of unserved and underserved audiences, particularly children and minorities;

The Corporation is authorized to —

Facilitate the full development of public telecommunications in which programs of high quality, diversity, creativity, excellence, and innovation.
—Public Broadcasting Act of 1967, as amended
I read these things so you don't have to: a 30-page essay, "IP Radio – A vision of radio in the Internet age" (Jan09 pdf), by Pierre Bellanger, CEO of Skyrock, the French radio & popular social net. Within are history and prognostications on all things digi-radio-future, but few new perspectives ("Radio, like the written press, the music industry and television, is changing", etc.).
Did find a few entertaining morsels, like this (pg11) on the singularity and un-CG-ability of the human voice:
Just as a penguin can recognise another among thousands, since time immemorial we have been able to discern a wealth of incredible nuances and emotions in the human voice. We owe our survival to our brain's ability to decipher the details of the voice, further heightening the effect of visual absence.

Pixar's digital masterpieces such as Toy Story or Ratatouille reproduce the most complex visual experiences like wet fur or the shine of bodywork with a computer, while the characters express their emotions as well as human actors. Despite these wonders, for the voices the studio uses actors, such as Tom Hanks or Paul Newman. A voice is more complex than an image.
And this historical radio data (pg19) — unsourced, so can't vouch for validity:
Radio experienced an auspicious period in the United States between 1980 and 2000. In 1995 radio represented a little over 10% of media advertising investments, or $12 billion. Prosperous radio stations generated results equivalent to 30% of their turnover. In 1995 regulations on ownership of several radio stations in the same market were relaxed. This 20 allowed the Clear Channel group to carry out a number of acquisitions; today, it owns about 900 stations with combined revenue of $3.5 billion in 2005.

The Clear Channel policy targeted profitability by standardising and homogenising programmes. Audiences considered risky and insolvent, such as adolescents, were abandoned. Further, morning shows, already attacked by influential puritanical groups and repeated fines from the authorities, were sanitised.

As a result, radio stations were reduced to simply playing lists of tried and tested hits aimed at an audience aged from 25 to 49 and hosted by DJ-robots. These flows were burdened with a maximum of advertising slots. Like a plane whose engine is shut off to save fuel and keeps flying for a few moments, the system seemed to work.

Then it began to show the first signs of weakness at the very moment when the younger generation was seizing the musical offer exploding on the Internet: the number of 18 to 24 year olds listening to the radio has dropped by 20% over the last ten years and 85% of adolescents now find their new music on the Internet.

In 2007 radio's turnover was $20 billion and still represented about 10% of the media advertising market but it is a decreasing trend. For now, the years of generous cash flow are over.

However, despite everything, according to the Institut Arbitron radio audiences continue to grow (93% of the population listens to 18.5 hours a week on average!) but the length of listening time is dropping.
Finally, this possibility for targeted per-user radio ads based on IP address and other online info (pg24):
The half a million listeners who listen instantly to Difool's morning show on Skyrock correspond to various characteristics. The same station can attract very different people which is how a large station becomes successful. The addressing process of IP radio means that people listening to the same programme can hear different adverts which correspond to their needs. Such multiple, simultaneous targeting is good news for advertisers which can concentrate their investments on suitable targets, for radio stations which can better serve their clients and are therefore more attractive, and for listeners who will hear adverts which are more relevant to what they are interested in.

IP radio combines radio's power as a mass media with the advertising precision of the Internet.

How can an IP address be qualified, as it is occasionally random on some machines? Identification of the machine can be reinforced via a small file left on the hard disk (cookies) or through a code entered by the user at the start of the session (login) which identifies the individual. Moreover, the generalised spread of mobile terminals and their use for telecommunications will increase relevance between user and machine. This is currently the case with mobile telephones which are even more individual than PCs.
Even creepier targeted-ads could combine radio w/ the user's web access data (pg26): "Someone listening to the radio just after looking at an automobile website could hear an ad
hoc advert via the radio."
Don't think it's possible? Think again: "Even without cookies, a browser leaves a trail of crumbs" Ars Techica | Panopticlick EFF research project.
via Technology360.
Virtuoso Voices has compiled interviewing tips from pubradio personalities Bob Edwards, Susan Stamberg, Kurt Andersen, Lisa Mullins, John Diliberto, Lynn Neary and others. It's all in a 25-page Interviewing 3.0 pdf (296KB).
David Schulman's (of MITOW) thots on interviewing "feng shui" are revalations. Below are some excerpts from "Interviewing Performing Artists… and Others: A Practical Guide"…
Bob Edwards (The Bob Edwards Show):
Think of it as a conversation and not an interview. If you do an interview, it will likely SOUND like an interview. How do you talk to a friend over a beer? First you LISTEN—and you react to what you've heard. If someone tells me something really interesting, I'll simply say, "Really?" or "No!" Those are little words of encouragement that signal the speaker to continue—and to expand on previous remarks. If your guest is truly confusing, try "Huh?"

Indulge yourself. Ask the question you've always wanted to ask. "What's that lyric about?"
Susan Stamberg (NPR):
Listening to answers is more important than asking the question.

Best question is often the simplest: WHY?
John Diliberto (Echoes:
Don't be afraid to ask the hard question. They aren't your friends and you don't have to worry that they won't like you or walk out. Although occasionally they do.

Don't be afraid to ask the obvious question. I got this from listening to Terry Gross, who, besides being a probing interviewer, also knows where the good stories are and isn't afraid to query into known terrain, because a good story is still a good story, even if it's been heard before. Chances are, most people still don't know it. Then find a different angle on that story.
by Jay Kernis 2006-12-19 (Presentation to NPR Stations)
It's an exciting time to be in public radio — as we all try to figure out how we will become public media.
For more than a year now, under the New Realities banner, the public radio community has been talking about everything from how to use new technology to share stories from the past and present — to creating a new business model to fund public radio — to articulating our mission in a media world that offers so many choices. A new world where the biggest challenge is just getting the attention of the audience.
Here's one provocative statement from these discussions — a challenge — that really got me thinking:
"NPR has found its distinctive SOUND.
It is now time for NPR to find its true voice."
–Quote from an NPR reporter (February 2006)
To me, that reporter was saying: it is time for us to discover what we truly want to become.
Because if we fail to do so, audiences will go elsewhere. If we fail to do so, we will be prey to the others who will define us. The others who call us "liberal" or "effete" or "boring."
The statement by the reporter differentiates between our sound and our voice. I'm going to talk about both for a few moments.
To help us find our true voice, I asked NPR News to make a few what I called "tweaks" — SIX OF THEM actually — most of them involving the issues we've been discussing for years. Decades, actually.
First, I told them that when people tune to an NPR program, I want them to hear reports and interviews and essays that inform them, of course, and that ask them to question preconceived notions — but that's not all.
I want the air to SING. I want programming that carries listeners to new places — intellectually and emotionally; programming that awakens you, that keeps you in your car to hear the ending, and that makes you want to tell a friend about what you heard. That makes you want to tune in again and again. Programming that soars — and sings.
But, the six areas I want us to pay a lot of attention to — right now — are: More…
Listen : John Cage – in love with sound / silence -01

Transcript of the interview with John Cage in the film "Ecoute" (Listen) by Miroslav Sebestik:
[part 1]
When I hear what we call music, it seems to me that someone is talking, and talking about his feelings, or about his ideas of relationships. But when I hear traffic, the sound of traffic, here on 6th avenue for instance, I don't have the feeling that anyone is talking. I have the feeling that sound is acting. And I love the activity of sound. What it does is it gets louder and quieter, and it gets higher and lower, and it gets longer and shorter. It does all those things.

I am completely satisfied with that. I don't need sound to talk to me. We don't see much difference between time and space. We don't know where one begins and the other stops. So that most of the arts we think of as being in time, and most of the arts we think of being in space. More…
"From the opening moments, "Cowboy" seizes the heart and soul of the listener for an extraordinary hour. Josh Darsa's strong story vision and great writing, combined with John Widoff's brilliantly clear and intimately warm recordings and mix, produced a radio experience that remains unequaled to this day. Listen to "Cowboy" and think about what went into it: planning, attention to detail, patience, and the faith and confidence that the highest standards are both achievable and worth all the work they require. A masterpiece that has endured for decades already, and surely will for many more."
–Alex Chadwick, June 1998

"This was the height of my career at NPR. It was a combination of everything… the music recording, the production sound recording, interviews… every single thing that I had ever done for this company all came together in this show. This was probably how Walt Disney felt when he made Mary Poppins. It was a dream come true for me to build something like this. 'Cowboy' is the kind of show you would listen to in a darkened movie theatre. The writing is spectacular."
–John Widoff, May 1998
NPR.org: 'Cowboy,' a Study in Radio Tale-Telling
Hearing Voices episode: "Cowboy"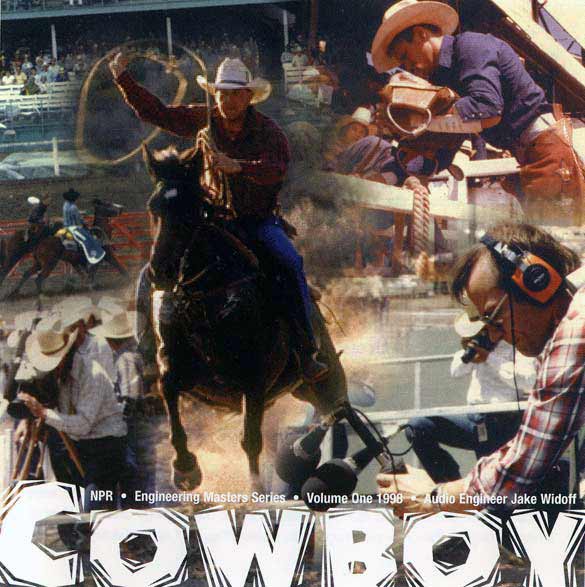 [The following liner notes  are from the 1998 CD of "Cowboy," Volume 1 in the NPR Engineering Master Series:]
In 1980, journalist-producer Josh Darsa, technical director and recording engineer John Widoff, assisted by Miles Smith, Dave Glasser and shop technician Bob Butcher, collaborated on Cowboy, a project that has become a classic of radio journalism. Cowboy was originally broadcast on October 4, 1980 on a series called The Mind's Eye. In an interview with Mike Starling, Vice President of NPR Engineering, John Widoff describes their unique effort.
Mega Decks, Mega Mics, Mega Mix
JW: While we were at the rodeo, Josh Darsa wanted to record multiple vantage points of a single scene. For instance, I'd have a Nagra tape recorder on the roof of the grandstand and Miles Smith, a freelancer out of New York (currently Boston), would have a Nagra in the chutes where the riders would bust out for their ride. Then we would have a freeorunning Nagra III on the rodeo announcer. We ran them in sync kinda like you would do in video with multiple cameras. This gave us three different vantage points. During the show you hear the perspective change through cross fading which is a result of these different but simultaneous perspectives. More…
Sonic Signatures- Tips for Creative Use of Interstitial Time
07/12/05 by Jay Alllison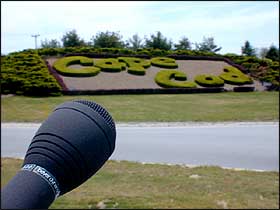 At our radio stations (WCAI/WNAN/WZAI for the Cape and Islands in Massachusetts), we have been experimenting with interstitial time since the day we signed on. By interstitial time, I mean the cutaways, the hourly breaks, all the little moments between programming blocks, the cracks in the sidewalk.
We use that time to create our station signature, to declare our sensibility in 30, 60 and 90 second bursts.
Sonic IDs
Our first experiment is something we dubbed, "Sonic IDs," an odd name that stuck. These are little community vignettes — portraits, anecdotes, oral histories, overheard conversation, short poems, jokes, slices of life — that end with our call letters. They are sudden narratives or images — like photographs for radio. Some are pure sound preceded by our favorite word: "Listen." Others are simply the unheralded voices of our neighbors telling something about life. Our test of these surprising, non-standard moments, the way we know they work, is if the listener turns and looks at the radio when the come on. (Current article: "Bursts of lush and local life are new stations' trademark".)
Sonic ID- "Couldn't Buy Hard Tack" (1:00 mp3):