Davis, Katie/Archives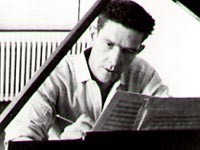 Hearing Voices from NPR®
140 John Cage: September 5 1912 – August 12 1992
Host: Barrett Golding of Hearing Voices
Airs week of: 2012-08-29
"John Cage" (52:00 mp3):
A tribute to the composer on his 100th birthday:
From a half-hour radio play, commissioned by CBS, written by poet Kenneth Patchen and scored by Cage. Broadcast May 31, 1942 on WBBM radio station (Columbia Broadcasting System in Chicago), as part of their Columbia Workshop series. Performance by Xenia Cage, Cilia Amidon, Stuart Lloyd, Ruth Hartman, Claire Oppenheim and John Cage conducting.
A voxpop variety of folk answer the musical question: "Who's John Cage?"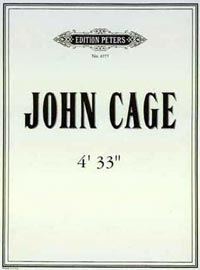 "Imaginary Landscapes" (2008 / 5:07)
Echoes
Few contemporary composers had the influence of John Cage. From experimental music to minimalism, Brian Eno to George Winston, echoes of John Cage continue to resound to this day, more than 6 decades after his "Sonatas and Interludes for Prepared Piano" were first published. John Cage was a conceptualist of sound who turned even silence into music as he did with his famous piece, 4 minutes and 33 seconds. John cage died from a stroke in August of 1992. But we hear his thoughts in sound from a 1987 interview. From the series Echoes with John Diliberto, part of their Thoughts in Sound specials.
Pianist Stephen Drury performs a 1948 Cage composition; the title track of the album In a Landscape
From the collection A Chance Operation: The John Cage Tribute (this UbuWeb link has free downloads of the entire CD set).
"Cage, Cunningham: Collaboration" (1983 / 5:27)
Jay Allison
An impressionistic illustration of synchronistic artistic cooperation, in the words of Cage and choreographer Merce Cunningham. Interviews by Katie Davis, from Jay Allison's series Living in the Arts.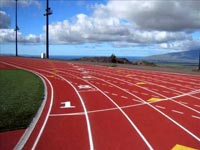 Hearing Voices from NPR®
139 Sports Report: Athletic Endeavor
Host: Barrett Golding of Hearing Voices
Airs week of: 2012-08-22
"Sports Report" (52:00 mp3):
The producer's wife likes to swim at night, far out into the lake. She was taught long ago how to effortlessly, and beautifully, skim across the water. Aired originally on This American Life "Lessons".
Mashup master GHP, aka, Mark Vidler, mixes Queen's sports stadium classic, "We Will Rock You
," with AC/DC, Led Zeppelin, Crowded House and a bit of Beatles, Outkast, and Snoop Dogg. Download off GHP's This Was Pop 2002-2007.
"We Believe We Are Invincible" (9:20)
Ben Rubin
The U.S.A Track and Field Hall of Fame commissioned sound-artist Ben Rubin, of EAR Studio, to make audio art from interviews with athletes.
A gay man gets to know the game. Edited from Mark's essay, Football & the Homosexual Brain.
"Basketball Diary" (1999 / 13:26)
Katie Davis
The producer spent the winter coaching a boys basketball team in her Washington, DC neighborhood. The boys' grades aren't good enough to play for the school, so they join a local church league. And Katie Davis starts more as counselor than coach. Originally aired on NPR. Part of the producers Neighborhood Stories series.
"He Got Game" (1998 / 2:00 excerpt)
From the soundtrack to Spike Lee's film, off the album Power To The People And The Beats – Public Enemy's Greatest Hits [Explicit]
(also: clean version
). Features Voices Of Shabach Community Choir Of Long Island, Stephan Stills and samples from his Buffalo Springfield song, "For What it's Worth
."
Spin class gets personal, with Chet Siegel as Sam, Emily Tarver as Lisa, Ed Herbstman as Kirk. Written collaboratively by The Truth, from a story by Chet Siegel. Special thanks: Peter Clowney, Kerrie Hillman, and Chris Bannon. Recorded at WNYC and on location in New York City. The Truth podcast is produced by Jonathan Mitchell (also on PRX.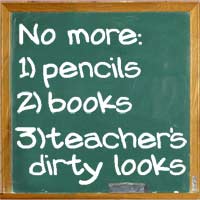 Hearing Voices from NPR®
029 Old School: Back-to-School Special
Host: Katie Davis of Neighborhood Stories
Airs week of: 2012-06-06 (Originally: 2008-09-17)
Old School (53:00 mp3):
Richard Paul follows "School VP," Asst. Principal Irasema Salcido, through her hectic multi-lingual morning at DC's Bell Multicultural High School.
Host Katie Davis finds she "Got Carried."
Slam poet and history teacher Taylor Mali schools us on "What Teachers Make" (CD: Conviction | video.)
Producer Hillary Frank gets the shy "Quiet Kids" to speak up.
Chicago Tribune columnist Mary Schmich's commencement speech advises "Everybody's Free (To Wear Sunscreen)," with music from filmmaker Baz Luhrman (CD: Something For Everybody), performed by actor Lee Perry, sung by Quindon Tarver).
Host Katie Davis takes her DC summer camp into the wild woods on a "Hike to Rock Creek," two blocks from where the kids live.
And more poems: Meryn Cadell "The Sweater" Angel Food for Thought (video), Jelani "By The Numbers" Angel Food for Thought., and Taylor Mali "Seventh Grade Viking Warrior" Conviction.
Music: Jurassic 5 "Lesson 6: The Lecture" Jurassic 5 EP, Archie Moore's "Times Table' With Soul and a Beat" from WFMU Blog- 365 Days Project, Lanterna "Fields" Sands, Sam Cooke "Wonderful World" Greatest Hits.
Baz Luhrmann – Everybody's Free (To Wear Sunscreen)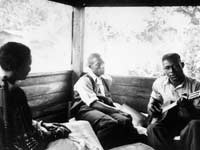 Hearing Voices from NPR®
108 Making Music: For a Living, For a Life
Host: Barrett Golding of Hearing Voices
Airs week of: 2012-03-28 (Originally: 2011-01-19)
"Making Music" (52:00 mp3):
Making music, for a living, for a life:
The Maddox Bros. & Rose were America's Most Colorful Hillbilly Band. In the 1930s, 40s & 50s, the four brothers and sister/singer Rose paraded thru America in their colorful Cadillacs and cowboy outfits. "Their costumes make Liberace look like a plucked chicken," said Tennisee Ernie Ford.
Born to sharecroppers in Boaz, Alabama, they rode the rails and hitch hiked to California in 1933, where they formed the band. Their sound was both old-timey and western swing; their rhythms helped plant the roots of rockabilly. Ginna Allison's sound-portrait features interviews with Rose Maddox, Tennesse Ernie Ford, Cliffie Stone, and her co-prodcuer on this piece, TJ Meekins of KVMR-Nevada City CA. (Images: Maddox Bros. & Rose: Myspace, Rockin' County Style)
A preacher's son, met in a North Carolina thrift shop, comes over the house to play guitar, and talk Jesus, G chords, and Gilligan's Island. Carmen's grandmother would not approve. Produced by Jay Allison for This American Life (PRX).
124 Walk in the Park: National Parks, Neighborhood Parks
Host: Barrett Golding of Hearing Voices
Airs week of: 2011-10-19
"Walk in the Park" (52:00 mp3):
Yellowstone, Zion, the Everglades, and William Pierce Park in DC:
From the series Neighborhood Stories– Park Life, profiling the daily life of a community's urban oasis: "Country Bobby" Lowry is the guardian of Walter Pierce Community Park in Washington, D.C. He's been keeping an eye on the park for almost three decades, and knows more about how it than any city official — he knows the trees, the plants and the kids. In the first of four stories about the park, we meet this transplanted farm boy who never takes shortcuts in his work. See NPR's has great photo gallery.
Utah's Zion National Park draws 2.7 million visitors a year, and a major attraction for hearty hikers is a trek along the Grotto trailhead to Angel's Landing. From the banks of the Virgin River, the yellow-and-red sandstone sides of Zion Canyon rise 2,000 feet. It feels like being inside a huge body. The canyon walls are the rib cage spread open and Angel's Landing is like the heart.
Take an Angels Landing eHike. Photo gallery at NPR.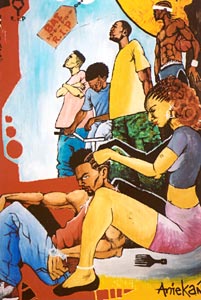 From Neighborhood Stories– Park Life: An ode to Leah at Walter Pierce Community Park, who braids hair by the basketball court while the guys play 5 on 5.
Music from Who Is Jill Scott? Words and Sounds, Vol. 1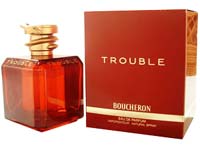 Hearing Voices from NPR®
119 Trouble: From Bad to Worse
Host: Barrett Golding of Hearing Voices
Airs week of: 2011-07-20
"Trouble" (52:00 mp3):
If you're looking for trouble, you come to the right place:
Erica was a private investigator; now she's a radio producer. The skills overlap: you ask questions, try to figure what happened, and make a report. (None of the interviewees were clients when she recorded them.) Produced by Larry Massett.
Recitations from the nightly news: a litany of tragedy, mayhem and murder. From Joe's 2005 hour Bad Faith, and in his collections in the Joe Frank Shop, on the CD Joe Frank Team Favorites, Volume 2. Music: "A Mother (For Your Mind)" The Herbaliser, Blow Your Headphones.
A good neighbor goes bad in the producer's DC block. Dozens of rats are infesting her yard and attacking other houses. Produced for This American Life, "Neighbors," and part of Katie's Neighborhood Stories series. End music: Music: "Cheval Noir" Fug, Ready For Us.
.
"I can break the law because… I am the law." Sleepless in Tbilisi. A twenty-four hour tour, from Turkish baths to Batumi beaches, through the country of Georgia, in Southwest Asia. High-speed sight-seeing, driven by the accidental tourguide: "a 'detective,' or 'special police,' or 'security force.' It's not clear. Sometimes he even says 'KGB,' though that no longer exists… does it?" Music: "Dachrilis Simgera (Song for Wounded)" Tbilisi Vocal Ensemble, Georgian Folk and Sacred Songs (2002). (Annotated transcript.)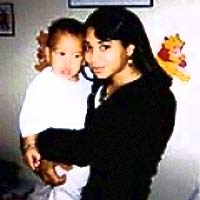 Hearing Voices from NPR®
058 Motherly Love: Moms, Young and Old
Host: Barrett Golding of Hearing Voices
Airs week of: 2011-05-04 (Originally: 2009-05-06)
"Motherly Love" (52:00 mp3):
For Mother's Day:
Muriel & Walter Murch compose "A Mother's Symphony" from womb sounds.
In 1996 Radio Diaries producer Joe Richman gave "Melissa Rodriguez from New Haven: Teen Mom" a microphone and tape recorder. Melissa was 18 and pregnant. Joe asked her to make an audio journal of her life, for the series Teenage Diaries.
Amy Jo, single mother of two toddlers, is "Surrounded by Lights," by producer Erin Mishkin of Public Radio Redux and SALT Institute for Documentary Studies.
Myra Dean tells StoryCorps of the day her son was killed by a reckless driver.
Ben Adair takes his mom in search of her mom and "Family Baggage." Ben heads American Public Media's Sustainability and Global Climate Change Reporting Initiative.
Katie Davis admits "I Live with My Mother," part of her DC Neighborhood Stories.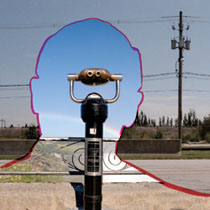 Toronto musician Charles Spearin with his neighbor "Mrs. Morris," from The Happiness Project
.
Seattle producer Jake Warga's "Far Side" calendars make metaphor and memories of his mother's life and death.
And HV wishes all moms, especially ours, a happy Mother's Day.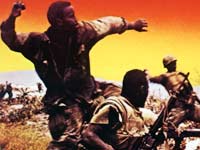 Hearing Voices from NPR®
071 Vietnam Vets: Coming Home
Host: Larry Massett of Hearing Voices
Airs week of: 2011-03-02 (Originally: 2009-09-23)
"Vietnam Vets" (52:00 mp3):
Recordings, remembrances, poetry, and PTSD from some of those who fought America's longest war:
The sounds of Saigon, 1972: in combat, on the radio, in the streets, were recorded by Claude Johner for the Folkways recording Good Morning, Vietnam (liner notes 4M pdf).
Doug Peacock, former Green Beret medic, deals with the PTSD of vets, including himself (interviewed by Scott Carrier). Peacock wrote the book Walking It Off: A Veteran's Chronicle of War And Wilderness.
Rich Kepler's war experiences were bottled up and about to burst, until he released them in his poetry (producer: Larry Massett).
An oral history of African-American Vietnam vets, based on the book Bloods: Black Veterans of the Vietnam War: An Oral History by Wallace Terry; produced for radio by Katie Davis.