Massett, Larry/Archives

Hearing Voices from NPR®
044 Memory Book: Looking Back at Life
Host: Ceil Muller of KQED-FM
Airs week of: 2010-04-14 (Originally: 2008-12-31)
"Memory Book" (52:00 mp3):
Recollections, remembrances, and mnemonics for recalling time:
Lester Nafzger recites his litany of lynchpins, memories that lock his life together, excerpted from Joe Frank's hour Performer.
Host Ceil Muller takes us on a tour of her own memory palace, made with bits of unused tape recordings gathered over the years.
We roam the beach with retired folk in Venice, Florida, finding seashells, shark's teeth and distant memories; narrated by Joe Frank, piano by Larry Massett.
"Remember Me" (1:30 excerpt)
The Moving Star Hall Singers
From the album Been in the Storm So Long: A Collection of Spirituals, Folk Tales and Children's Games from Johns Island, SC (Smithsonian Folkways).
Drawing at top: Phrenology Symbolized, © 1895– by Prof. Wm. Windsor: The Symbolical Phrenological Head, Showing the Location of the organs of the Brain; from his book How to Become Rich (1898).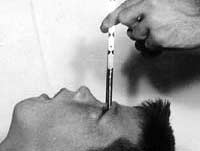 Hearing Voices from NPR®
023 This is Insanity: Disturbed Mental States
Host: Scott Carrier of Hearing Voices
Airs week of: 2010-03-03 (Originally: 2008-08-06)
"This is Insanity" (52:00 mp3):
A survey of disturbed mental states:
With the music of Disposable Heroes of Hiphopcracy (rapper Michael Franti and percussionist Ron Tse), from the 1993 CD Spare Ass Annie and Other Tales.
"Electroshock" (3:42)
Anon.
A first-person account from an anonymous reporter of his experience undergoing ElectroConvulsive Therapy.
Music from the Australian mashup/cut-up artists 2000 CD Since I Left You.
Our host travels the Utah backroads testing folk for schizophrenia.
The narrator is pathologically challenged by time, and the stories societies tell themselves, excerpted from the 2006 radio hour "Time's Arrow."
Howard Dully traces the reasons and repercusssions of his transorbital or "ice pick" lobotomy, a radical new procedure in the treatment of mental illness in this country, pioneered and performed by psychiatrist Walter J. Freeman.
Produced by Dave Isay and Piya Kochhar, with help from Larry Blood, Eliza Bettinger, Brett Myers, Jessica Tickten, Anna Goldman, Maisie Tivnan, Colin Murphy and Jonah Engle Narratored by Howard Dully; edited by Gary Covino. Jack El-Hai was project advisor. Special thanks to: Barbara Dully, Andrew Goldberg, Christine Johnson, Lyle Slovick & David Anderson at the GWU Gelman Library archives. Funding provided by the Corporation for Public Broadcasting with additional support from the National Endowment for the Arts.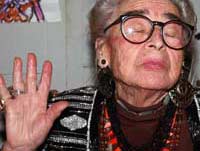 Hearing Voices from NPR®
046 All Happy Families: Love and Loss
Host: Larry Massett of Hearing Voices
Airs week of: 2010-02-10 (Originally: 2009-01-14)
"All Happy Families" (52:00 mp3):
Tolstoy wrote, "Happy families are all alike; every unhappy family is unhappy in its own way." But sometimes it's hard to tell who is and isn't happy:
After decades together, the Nadeaus find their husband/father has a secret. This story, told by family friend, come to us from Transom, which has a longer version, with photos and family history. [Music: Bach Six Cello Suites performed on viola performed by Patricia McCarty (Ashmont Music), Stravinsky ""Apollo" Three Greek Ballets performed by London Symphony Orchestra (Naxos).]
Steve Fugate roams the roads of America, walking thousands of miles with a sign stuck over his middle-aged head that reads "Love Life" — because of what happened to his son; recorded by Mark Baldwin, produced by ).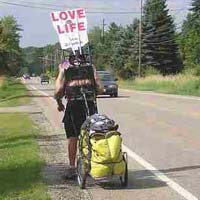 Follow Steve's writing and walking at Trail Therapy. [Music: Stravinsky "Agon" Three Greek Ballets performed by London Symphony Orchestra (Naxos), Bach Six Cello Suites performed on viola performed by Patricia McCarty (Ashmont Music), Dolly Parton "Silver Dagger" The Grass Is Blue.]
We follow an evolution of relationships revealed in conversations between Greg Sharrow, his mother Marjorie, and Greg's husband Bob Hooker, as Marjorie's dementia progresses. Produced with the Vermont Folklife Center. Transom has the original longer version, with photos. [Music: Karinne Keithley.]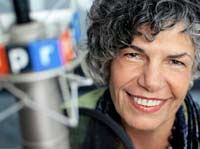 Hearing Voices from NPR®
031 The Stamberg Files: Essays, Audio-tours, and Interviews
Host: Susan Stamberg of NPR
Airs week of: 2009-12-30 (Originally: 2008-10-01)
"The Stamberg Files" (52:00 mp3):
Susan pulls some pieces she's most proud of from the NPR audio archives:
She knits her way though history, takes us on a personal tour of DC, and tries to interest her colleagues in resurrecting her infamous relish recipe.
She talks with economist Milton Friedman, actor Judi Dench, writer Nora Ephron, and pianist Leon Fleisher.
In pursuit of patriotism, Ms. Stamberg de-France-ifies popular culture, then ends in a Parisian park, chatting with a world-class conversationalist. Above photo &copy 2006 NPR by Antony Nagelmann.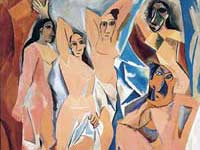 Hearing Voices from NPR®
036 Paintbrush: Lives of the Artists
Host: Larry Massett of Hearing Voices
Airs week of: 2009-12-02 (Originally: 2008-11-05)
"Paintbrush" (52:00 mp3):
Sound-portraits of painters:
Singer Jonathan Richman puts forth the proposition that Pablo Picasso was never called an @#%hole; recorded in 1972, released on the 1976 album The Modern Lovers.
Susan enlists elementary school kids to evaluate the paintings of Pablo Picasso. Their art crit proves accurate and insightful. Co-produced by host Larry Massett.
The poet paints a depiction in prose of her pal Pablo.
A history of injuries and inspiration unfolds in this an audio biography of the legendary Mexican artist.
From Jonathan's 2008 solo CD Because Her Beauty Is Raw And Wild.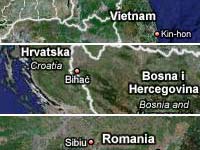 Hearing Voices from NPR®
020 The Old Country: Back to the Homeland
Host: Neenah Ellis of If I Live to Be 100
Airs week of: 2009-07-29 (Originally: 2008-07-16)
"The Old Country" (52:00 mp3):
Three hearts searching for home:
Going back to Vietnam makes Nguyen Qui Duc realize "Home is Always Somewhere Else," from Crossing East produced by Dmae Roberts.
Host Neenah Ellis goes looking for her family in Croatia, where "The Old Country is Gone."
And Andrei Codrescu returns to his Romanian home town and stares into the "Eyes of Sibiu" (produced by Larry Massett.)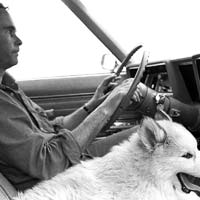 Hearing Voices from NPR®
011 Road Trip: Travelers' Tales
Host: Larry Massett of Hearing Voices
Airs week of: 2009-5-27 (Originally: 2008-05-14)
"Road Trip" (54:00 mp3):
Host Larry Massett spends a "Long Day on the Road" with ex-KGB in the Republic of Georgia.
Scott Carrier starts in Salt Lake and ends on the Atlantic in this cross-country "Hitchhike."
Lemon Jelly adds beats to the life of a "Ramblin' Man."
Writer/singer Willie Vlautin with his band band Richmond Fontaine sends musical postcards from the flight of "Walter On the Lam."
And Mark Allen tells a tale of a tryst with a "Kinko's Crackhead."
On WFMU's Beware of the Blog is an ATC Theme Overload. More than a dozen mp3s of the All Things Considered "dinks," along w/ a link to listener suggested lyrics.
There's the seminal sappy synth:
"ATC Theme- 1971 original" (1:52 mp3):
The breathy brass of the:
"ATC Theme- Washington Saxophone Quartet" (0:29 mp3):
To which we'll add our own:
"ATC Theme- Dinky the Dingo" by Larry Massett (2:12 mp3):