quiet american/Archives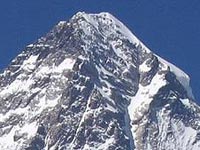 Hearing Voices from NPR®
137 In the Mountains: Towards the Summit
Host: Barrett Golding of Hearing Voices
Airs week of: 2012-06-20
"In the Mountains" (52:00 mp3):
Heading towards the summit:
Field recordings in the Annapurna region of Nepal near Tibet, including a ceremony for the Buddha's birthday, a few donkey trains passing in a cacophony of melodious bells; and a five-foot prayer wheel in a Buddhist gompa in Marpha.
From NPR Radio Expeditions, hidden deep in the woods of the Payette National Forest are the terraced remnants of the "Ah Toy Garden" (near the town of Warren, Idaho), now on the National Register of Historic Places. Produced by Carolyn Jensen Chadwick with sound desgin by Michael Scweppe.
When most people are headed to the beach, our producer heads for the ski slopes near his home in Utah. The goal is to find a combination of freezing and thawing in the late spring that gives the mountain snow pack the singular spring skiing experience(on PRX | on NPR).
Attempting to climb the world's most deadly and second highest demands extreme gear, training, timing, preparation, and a carefully selected team. Joe Frank eschews every bit of that: why make so easy? Excepted from Joe's hour, Mountain Rain, available on CD and as an MP3. Music: "Buried At Sea" MC 900 Ft Jesus, One Step Ahead of the Spider.
K2 photo courtesy: Kevin Mayea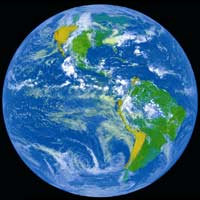 Hearing Voices from NPR®
007 The Earth Sings: For Earth Day
Host: Dmae Roberts of Stories1st.org
Airs week of: 2012-04-18 (Originally: 2008-04-16)
The Earth Sings (53:00 mp3):
Host Dmae Roberts of of Stories1st.org, for Earth Day, presents Sounds for and from Mother Earth:
The Quiet American takes an audio trek through Nepal"s "Annapurna" Circuit.
Host Dmae Roberts records Maori music and culture. We hear Pulse of the Planet's "Extraordinary Sounds From the Natural World."
And from Gregg McVicar and the Earthsongs series: Sioux Soprano Bonnie Jo Hunt layers opera over insects (on Robbie Robertson's Music for the Native Americans), and the band Pamyua mimics creature calls.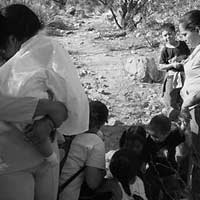 Hearing Voices from NPR®
013 Crossing Borders: From Mexico to US
Host: Marcos Martinez of KUNM-Alberquerque
Airs week of: 2012-01-18 (Originally: 2008-05-28)
"Crossing Borders" (52:00 mp3):
A Tale of Two Countries:
In "Sasabe," a Sonora, Mexico border town, Scott Carrier talks to immigrants on their hazardous, illegal desert crossing, and to the border patrol waiting for them in Sasabe, Arizona.
Luis Alberto Urrea reads from his books Vatos and The Devil's Highway, about death in the desert.
Guillermo Gómez-Peña imagines "Maquiladoras of the Future," fantasy border factories.
"And I walked…", by Ann Heppermann and Kara Oehler, is a sound-portrait of Mexicans who risk their lives to find better-paying jobs in the United States.
And sounds from the Quiet American's one-minute vacation.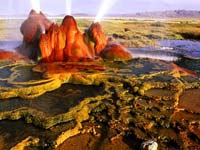 Hearing Voices from NPR®
066 Desert Air: Audio from the Arid Regions
Host: Ben Adair of American Public Media
Airs week of: 2011-09-28 (Originally: 2009-08-05)
"Desert Air" (52:00 mp3):
Hot & dry stories and soundscapes (see Dave's Deserts for photos from the American West):
Coyotes, owls, frogs and songbirds are part of Desert Solitudes, recorded by Bernie Krause and Ruth Happel in the Sonoran and Chihuauan deserts, part of New Mexico's panhandle.
Host Ben Adair heads down to the ghost towns, Opera Houses, century-old abandoned mines, and billion-year old boulders along Death Valley's "Mojave Road."
Kraut-rockers Faust dial in "Long Distance Calls in the Desert," from their album Rien.
The Quiet American (Aaron Ximm) sound-captures the forbidding warning signs rattling in a harsh wind and "Desert Sun" outside the nuclear Nevada Test Site north of Las Vegas.
Back in the early 1990s, SLC producer Scott Carrier found the Basin & Range, near Nevada"s "Battle Mountain," beautiful, lonely, dreary, and full of sagebrush, solace and stories. And more Desert Solitudes.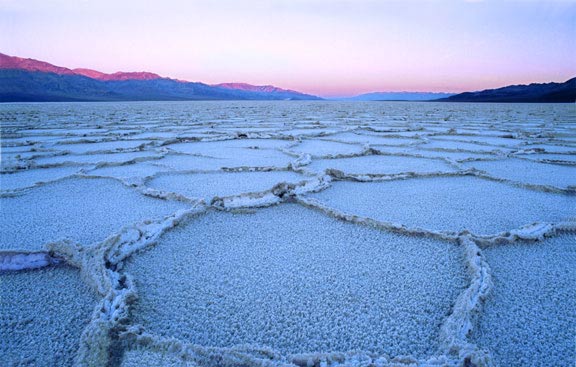 Death Valley sand dunes in California, © David Matherly
Our Dave's Deserts gallery has more David Matherly photos from the American West.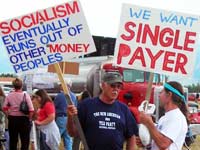 Hearing Voices from NPR®
085 Protest: At the National Mall & Town Halls
Host: Barrett Golding of Hearing Voices
Airs week of: 2011-03-23 (Originally: 2010-02-24)
"Protest" (52:00 mp3):
Protest may be new to some parts of the world, but in America, complaining about the government is a national pastime. We hear protest music and mashups; we go to protest marches, from Vietnam War era actions on the National Mall, to modern-day Tea Parties and Town Halls:
"Town Halls 2009″ (2:05)
Barrett Golding
Protest used to be mainly for the young and left-leaning, but recently older right-wingers have joined the party — the Tea Party. When Congressmen went home in 2009, this is what they heard from constituents. Music: Jeff Arntsen, mix: Robin Wise, audio: excerpted from YouTube videos.
A sound collage of protests and protest music over the past 40 years
The popular Burmese rock band Iron Cross is using music to challenge the nation's infamously repressive regime. In the great tradition of rock and roll, Iron Cross is taking on Burma's military government with song.
The [Un]Observed is a new Radio Magazine whose stories cross genres, countries and societal subjects.
Try "The Trouble With Rick" by Aussie "media practitioner" Kyla Brettle. She calls her piece a "radiophonic exploration and impressionistic interpretation of how the world spoke to Rick." May sound pretentious, but is a pretty good description of the way she paints her audio portrait:
Walking into a noisy restaurant, Rick Tarulli felt inundated by a barrage of sound — the effect of which was so overwhelming that it made him lose his balance. Every conversation in the room shouted at him, the scrape of knives on plates made his vision jump and he could clearly discern the hum of the fridge out back. Rick knew there was something going wrong inside but couldn't work it out. Neither could his doctors. Three years ago Rick discovered his symptoms were caused by superior canal dehiscence syndrome, a recently diagnosed condition that affects the inner ear.
Other contributors include HV frens Aaron Ximm (aka, quiet american; "Guatanamo Express", Jonathan Mitchell ("Eye Contact"), and, 'course, AnnKara: those females at the forefront of every forward facing futuristic audio feature.
Interested in contributing? Contact them; their ears are wide open:
What we're looking for [is] innovative, engaging and dynamic use of sound as a medium to tell a story. That story can be about a wide range of things, and can be as long or short as the producer would like. The main guideline is in the execution. One of the goals of The [Un]Observed is to move away from traditional, act/track, radio pieces to something where the medium of sound is explored and expanded. The magazine hopes to be a playground of sorts for radio and audio producers to present work they are excited about and proud of. Beyond that, we hope to create an international space where sound makers from all different parts of the world can come together.
via sound Rich and Chadwicks.
Right Here, Right Now is an evening with sound-artist Aaron Ximm (aka, quiet american), Oct 29 at the Headlands Center for the Arts (Sausalito, CA):
2009 AIR Aaron Ximm creates intimate, site-specific sound installations that translate fleeting moments captured by field recordings into present experiences.
He'll also present 24 channels of sound Oct 18 at Headlands Fall Open House.
As paredes têm ouvidos ("The walls are listening") Aaron Ximm's 2007 site-specific sound installation, Lisbon, Portugal
"As Parades Tem Ouvidos – Nature (Collage C)" recordings made within the walls of Nodar, on the theme of nature sounds (6:17 mp3):