ZBS/Archives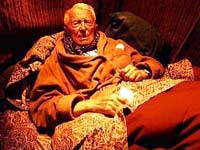 Hearing Voices from NPR®
107 Strange Days: Paul Bowles, Coyle & Sharp, Ayahuasca
Host: Larry Massett of Hearing Voices
Airs week of: 2012-05-16 (Originally: 2010-12-29)
"Strange Days" (52:00 mp3):
Way beyond the norm:
"Paul Bowles" (21:03)
Host Larry Massett has an audio essay on the life and literature of Paul Bowles (December 30, 1910 – November 18, 1999) on his 100th birthday.
Includes the ZBS 1967 conversation "A Time in Tangier," readings of The Sheltering Sky
by Paul Kiernan (IMDb | "A Slight Discomfort" for stage & HV radio), "The Hyena" (Collected Stories
) by Erica Heilman (VT Folklife Ctr | HV), and PB himself from his 1992 album Black Star at the Point of Darkness
.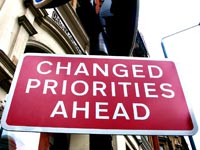 Hearing Voices from NPR®
133 Destination Unknown: Getting Nowhere, Slow
Host: Barrett Golding of Hearing Voices
Airs week of: 2012-03-07
"Destination Unknown" (52:00 mp3):
Are We There Yet?:
Zeno's paradox hits the highway, asking How Can You Be In Two Places At Once When You're Not Anywhere At All?.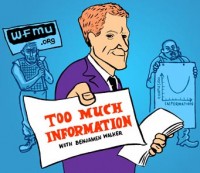 "Remedial Theory" (2004 /13:30)
Benjamen Walker
Great novels induce empathy for others' experiences. So how is it a man now on trial for crimes against humanity is an avid fiction reader of fiction? Might he simply be reading the wrong books? We take a trip to The Hague to hand-deliver the 'right' books to Slobodan Milosevic. Produced with Michael Kavanagh of The Next Big Thing and HV's Larry Massett. Ben Walker hosts WFMU's Too Much Information, where "the sober hangover after the digital party has run out of memes, apps and schemes" (TMI playlists / archives). He also produces The Big Ideas podcast for The Guardian.
"Keep going (feat. Tony Joe White)" (2005 / 5:03)
Boozoo Bajou
"Where you boys going? The swamp… you're not from around here, are you?" Off Dust My Broom.
Scott's first radio piece: he and his microphone hitch from his home in Salt Lake City to the doorstep of NPR, recording the people he meets along the way (mixed by NPR's Dawn Warneke). Scott's most recent book is Prisoner of Zion.)
Donna, a supermarket checkout clerk, dreams of faraway places, in the ZBS radio soap, Saratoga Springs.
Form the collaboration called Wide Open Spaces . Internet Archive has the entire performance: "People Like Us, Matmos and Wobbly Live at San Francisco Art Institute on 2002-10-05."
Wobbly, People Like Us and Matmos circled their wagons in the lecture hall of the San Francisco Art Institute. Having mutually agreed upon a country-and-western theme, Vicki Bennett (PLU), Jon Leidecker (Wobbly), and Drew Daniel and M. C. Schmidt (Matmos) pored over their archives of honky-tonk classics, chopping and dicing Nashville's finest almost beyond recognition, and collectively re-stitched the mangled shreds in crazed digital quilting bee.
"Changed Priorities" sign photo (cc) courtesy Christine.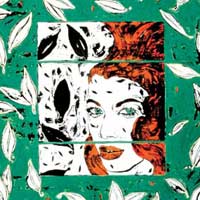 Hearing Voices from NPR®
003 Her Stories: For Women's History Month
Host: Dmae Roberts of Stories1st.org
Airs week of: 2012-02-29 (Originally: 2008-03-19)
"Her Stories" (52:00 mp3):
The Kitchen Sisters go to "Tupperware®" parties.
A supermarket checker checks out her life, in ZBS's radio soap Saratoga Springs.
Jenifir returns "Home From Africa" with all 13 Symptoms of Chronic Peace Corps Withdrawal, produced by Jake Warga.
Host Dmae Roberts has a collage of and about "Sisters."
In a new syntax of whispers and words Susan Stone tells the story of "Ruby" and her husbands.
And Sonia Sanchez (produced by Steve Rowland of Shakespeare Is), Tracie Morris, Jill Battson and Meryn Cadell perform short poems.
Music from Tara Key's Ear & Echo.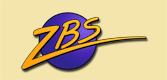 The ZBS Foundation has long been at the forefront of the dramatic radio arts. Their podcast is a great survey of their audio excursions, mixing flights of fancy with real sound effects.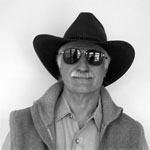 Check Podcast #8, "Weird Frogs" (7:55 mp3):
"Meatball Fulton plays really weird frogs he recorded in the Amazon, Bali, Lombok, Mexico, and the Brazilian Pantanal."
There's more "Singing Frogs of the Pantanal" in this story produced by ZBS for us and Living on Earth (3:54 mp3):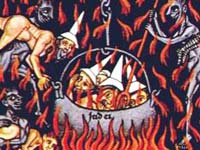 Hearing Voices from NPR®
074 Bloody Hell: For Halloween
Host: Tom Lopez of ZBS Productions
Airs week of: 2011-10-26 (Originally: 2009-10-28)
"Bloody Hell" (52:00 mp3):
An hour of horror for All Hallows' Eve, the first half is bloody, the second goes to hell:
Based on a conversation with Edna Wofford about ESP, dreams and intuition. From the 2003 CD, Mayor of the Tennessee River. Artist David Greenberger of Duplex Planet has been collecting the thoughts, memories and stories from elderly Americans for more than a quarter century.
"The Bleeding Man" (12:05)
ZBS
From birth, a young Native American has been bleeding from his chest. The government keeps him locked in a cell, refusing to heed his uncle's warnings. A 3D ZBS adaptation of Cherokee writer Craig Strete's short story from The Bleeding Man and Other Science Fiction Stories.
La Llorona — the weeping woman — is the Mexican equivalent of the bogeyman. The man she loved rejected her, in madness she drowned her children, then herself. Now she roams the night wailing "Aaay, Mis Hijos;" a scary story that keeps children from wandering at night: "La Llorona will get you."
"I Want to Bite Your Hand" (2:03 excerpt)
Gene Moss (MP3J mashup)
Gene Moss's 1964 Beatles parody mixed w/ SFX by MP3J. Full vers at Mashuptown, "I Want to Bite Your Hand"" (2:50 mp3):
"Jesus and I Go to Hell" (6:48)
found-sound
From a cassette tap found by The Professor of WFMU (mp3) & TheAudioKitchen.net. A video vers with images added by Kenneth Salt: More…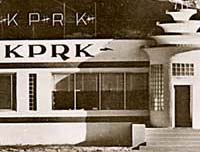 Hearing Voices from NPR®
006 Radio Dial: Signals from the Sky
Host: Barrett Golding of Hearing Voices
Airs week of: 2010-05-26 (Originally: 2008-04-09)
"Radio Dial" (52:00 mp3):
Radio stories about radio, then stories about radio stories:
"Dueling XMTRs! #3: VOIRI vs. the World" (2003 / 1:01 excerpt)
ShortWaveMusic
These "Dueling Transmitters" are an atmospheric found-sound un-manipulated mix of Spanish ham-radio operators, slow Morse code, data squalls, and the Voice of the Islamic Republic of Iran. From the Shortwavemusic blog post "The Effects of Radiation."
An FM radio station in Uruguay's capital, Montevideo, is called Urbana. It's hip, bilingual, plays music from all over the world, and is famous in Uruguay for its 30-second sound portraits featuring the voices of famous people mixed over avante-garde music.
The Cuban a-capella ensemble approximates a radio dial with their vocal chords. From the group Vocal Sampling's (site | space) CD Una Forma Mas.
Shortwave/music mixes by LA sound artist Myke Dodge Weiskopf, off his 30: a Retrospective 1976-2006
The government's all-time all-the-time radio station goes commercial, voiced by former WWV announcer John Doyle.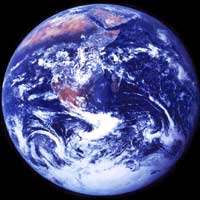 Hearing Voices from NPR®:
056 An Hour of Earth— For Earth Day
Host— Barrett Golding of Hearing Voices
Airs week of— 2009-04-15
"An Hour of Earth" (52:00 mp3):
Walk on the wild side with earthly tales of animals, environments, and outdoor adventure:
We canoe Wyoming's "Green River" (1994) with Scott Carrier.
Tom Lopez of ZBS records some samba "Singing Frogs" in Brazil, or are they toads?
Poet Andrei Codrescu, of The Exquisite Corpse, composes a microcosmic "Environment" based on burgers (from No Tacos for Saddam 1992
).
"Subtext: Communicating with Horses" is Jay Allison's inter-species conversation, part of his 1985 series Animals and Other Stories.
And Sarah Vowell has subterranean supper in the Carlsbad Caverns' "Underground Lunchroom", from a 2001 This American Life.
The ZBS series 2 Minute Film Noir are radio dramas, inspired by a film genre, which has inspired a series of video versions, starring 2MNF's Joe and Moe. The first is "When Little Girls Come Out To Play:"