Sonic IDs: KGLT
KGLT Sonic IDs
Updated 2010-04
Produced by Barrett Golding, Lara Vaienti, and Scott Carrier.
"Jazz Bass- Kelly Roberti" (1:21 mp3):

"Bison Ranch- Kroon Brothers" Manhattan MT (0:56 mp3):

"Buddhist Prayer- Mary Voight" Billings MT (1:36 mp3):

"Prairie Church- Lucille Anderson" Melville MT (1:31 mp3):

"Alpine Cowboy- Burt Withrow" Pioneer Mountains (0:45 mp3):

"Coyote Tales- Greg Keeler" Montana State University (1:15 mp3):

"Elk Hunting- Norman Strung" Cottonwood Canyon MT (1:29 mp3):

"Geysers Gazers- Yellowstone National Park" Old Faithful WY (0:58 mp3):

"Ghost Town Sound- Steve Powell" Bozeman MT (1:15 mp3):

"Jubilee- Brady Wiseman" Bozeman MT (1:07 mp3):

"Mushroom Picking- Doug Peacock" Paradise Valley MT (1:20 mp3):

"Olympic Skaters- High Altitude Sports Center" Butte MT (1:38 mp3):

"Rainbow Family- Barry 'Plunker' Adams" Beaverhead Forest MT (1:16 mp3):

"Ranch Dog- John Hoiland & Nippy" West Boulder Valley MT (1:00 mp3):

"Ranch Animals- Roxanne Linderman" Springhill MT (1:09 mp3):

"Bucking Horse Sale Rodeo Rider- Doug Davis-" Miles City MT (1:19 mp3):

"Rolling Exhibition- Kevin Connelly" Bozeman MT (1:31 mp3):

"Sonambient Sculpture- Celia Bertoia" Bozeman MT (1:36 mp3):

"Sound Scupltures- Pat Zentz" Laurel MT (1:14 mp3):

"Sundance- Scott Fraser" Bear Canyon MT (1:27 mp3):

"Wampum Belt- Jonathan Windy Boy" Rocky Boy Reservation MT (1:17 mp3):

"Wolves- Grizzly & Wolf Discovery Center" West Yellowstone MT (1:31 mp3):

"Wounded Vets/Project Healing Waters- Lt Eivind Forseth" Big Timber MT (1:07 mp3):

"Writing- Jim Harrison" Paradise Valley MT (1:07 mp3):

"Christmas Kids- 2nd Graders, Emerson School" Bozeman MT (1:31 mp3):

KGLT-Bozeman uses a new type of station promo called Sonic IDs. Each is a short (50-90 seconds) sound-portrait of someone, or even some sound, from around the listening areas. Most are audio-intensive, and all end with "You're listening to KGLT, alternative public radio."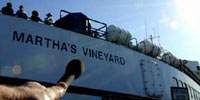 The idea for Sonic IDs started at Cape and Islands Radio as: "short portraits and stories that weave thru the broadcast day with the voices, sounds and stories of our region." The Cape's Jay Allison envisioned them as:
Little community vignettes — portraits, anecdotes, oral histories, overheard conversation, short poems, jokes, slices of life — that end with our call letters. Some are pure sound preceded by our favorite word: "Listen." Others are simply the unheralded voices of our neighbors telling something about life.
Pubcasting's newpaper Current introduced Sonic IDs as "Bursts of Lush and Local Life:"
They pop up all day long, 30-60-90-second bursts of life. The effect is startling, unexpected. You are listening to news of the world and then, during a pause, an unheralded speaker — a local elder or high school kid or sandwich-maker or scientist — pops in.
Stations from Austin to Indiana have given them a go. With support from CPB's Rural Listener Access Incentive Fund, KGLT is the latest station to Sonic ID.
[Page for: KGLT DJs]