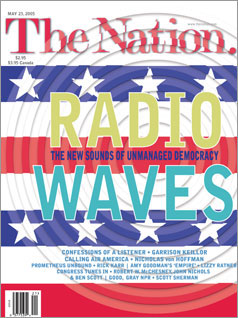 Continuing our historical Pubradio writs—
The Nation magazine devoted an entire issue (2005-05-23) to Radio Waves. Here's an excerpt from a featured article, "Confessions of a Listener" by Garrison Keillor:
What I want is to be surprised and delighted and moved. Here at the low end of the FM dial is a show in which three college boys are sitting in a studio, whooping and laughing, sneering at singer-songwriters they despise, playing Eminem and a bunch of bands I've never heard of, and they're having so much fun they achieve weightlessness — utter unself-consciousness — and then one of them tosses out the f-word and suddenly they get scared, wondering if anybody heard. Wonderful. Or you find three women in a studio yakking rapid-fire about the Pitt-Aniston divorce and the Michael Jackson trial and the botoxing of various stars and who wore what to the Oscars. It's not my world, and I like peering into it. The sports talk station gives you a succession of men whose absorption in a fantasy world is, to me, borderline insane. You're grateful not to be related to any of them, and yet ten minutes of their ranting and wheezing is a real tonic that somehow makes this world, the world of trees and children and books and travel, positively tremble with vitality. And then you succumb to weakness and tune in to the geezer station and there's Roy Orbison singing "Dream Baby" and you join Roy on the chorus, one of the Roylettes.

I don't worry about the right-wingers on AM radio. They are talking to an audience that is stuck in rush-hour traffic, in whom road rage is mounting, and the talk shows divert their rage from the road to the liberal conspiracy against America. Instead of ramming your rear bumper, they get mad at Harry Reid. Yes, the wingers do harm, but the worst damage is done to their own followers, who are cheated of the sort of genuine experience that enables people to grow up. The best of what you find on public radio is authentic experience. It has little to do with politics. The US Marine just returned from Sudan with lots of firsthand impressions of the crisis there; the journalist just back from Falluja, where he spent three months; a firsthand documentary about life aboard the aircraft carrier USS John C. Stennis in the Middle East–that's what Edward R. Murrow did from London in 1940, and it's still golden today. It's the glorious past and it's the beautiful future. (Thanks to the Internet, the stuff doesn't vanish into thin air. You can go to thislife.org and get the story of the Houston woman or the aircraft carrier documentary. You can find the Sudan and Falluja interviews at whyy.org/freshair. More and more people are doing this. Nobody cares what Rush Limbaugh said two days ago; it's gone and forgotten, but the Internet has become an enormous extension of radio.) That's why public radio is growing by leaps and bounds. It is hospitable to scholars of all stripes and to travelers who have returned from the vast, unimaginable world with stories to tell. Out here in the heartland, we live for visitors like those. We will make the demented uncle shut up so we can listen to somebody who actually knows something.

—Garrison Keillor "Confessions of a Listener"
Also in The Nation: Radio Waves was Rick Karr (of NPR) with "Prometheus Unbound" (about the Prometheus Radio Project), and a mention of a Scott Carrier TAL piece in the Diary of a Mad Law Professor column.