It is with a mixture of sadness and relief I announce the passing of my Grandmother: Alma J. Kelsey (Warga, Smith).
Born in Lincoln, Nebraska on July 4th, 1910, she passed away this weekend, 99 years later.
Alma was the oldest of seven siblings but the last to depart. She is survived by myself and her son Robin.
In 1928, at the age of 17, Alma Smith eloped with Wayne Warga, 19, and headed West for Hollywood to start a new life and a family. The family was harder to come-by for her husband was not medically able: but in 1938 she bore my father, Wayne (Bud), after a secret affair with an LAPD officer. Then in 1949 she met another man to have another child: Robin. She wanted a family so bad and bore the weight of her secrets until she started AA and revealed all.
In the 1970's she met and married Dick Kelsey, painter and animator. They moved to Leisure Village in Camarillo where her Lilly Garden won village awards year after year. She stayed by Dick through his Alzheimer's and eventual death.
In 1985 AA became Alma's new church, where she grew to become a guru in the program. In 1994 we stood together and buried her son, my father, Wayne. It's around that time Alzheimer's started pulling her away.
In 2005 NPR aired a story about her (transcript). I invite you to hear Alma in her own voice, "Grandmother: Aging, Decline & Love" (8:16 mp3):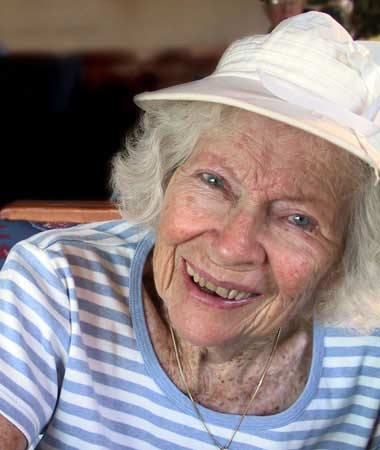 I compliment Robin, a loyal and loving son, for the strength to see her through to the end.
Alma J Smith — Granted the Serenity