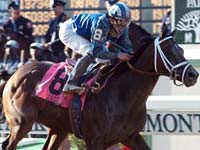 Hearing Voices from NPR®
090 On Horseback: Equine Athletes
Host: Barrett Golding of Hearing Voices
Airs week of: 2010-05-12
"On Horseback" (52:00 mp3):

A couple equestrian classics from the NPR archives, along with some equine music and found-sound:
The collaged sounds of a Carriage Race at the annual Stampede in Austin, Manitoba. Excerpted from The little man in the ear, off the CD Radio Roadmovies; and on the Deep Wireless 2004 by Toronto's New Adventures in Sound Art.
Bruce Davidson has been a member of the U.S. Equestrian Team since 1971. He's a world class rider, trainer and breeder. NPR visited Chesterlands Farm, in Unionville, Pennsylvania, when Bruce Davidson and his horse JJ Babu were training for the 1984 L.A. Olympics (they won a Team Gold). David Molpus is now with Ideastream in Cleveland. The producer Carolyn Chadwick's latest project is Conservation Sound.
From the band's 2006 album Limelight Cordial.
A poem about a poem about a horse, from the singer's 2005 album Pearl Street (lyrics).
"All the Tired Horses" (2:14 excerpt)
Bob Dylan
From Dylan's 1970 Self Portrait (musicians).
Summer Bird, Rags to Riches, Empire Maker, Lemon Drop Kid, Colonial Affair, Thunder Gulch, those are some of the winners at the Belmont Stakes, the last leg of the Triple Crown of Thoroughbred Racing. In 1979, an army of NPR sound-recordists showed up trackside at Belmont Park, Long Island to document Spectacular Bid's attempt to match Secretariat's legend. Writer/Produced: Josh Darsa. Technical Director: Skip Pizzi, with Field Engineers: Paul Blackmore and Ceil Muller. Technical Assistance: John Widoff and Dave Glasser. Editorial Assistance: Neal Conan.
Top: Jazil, 2006 Belmont Stakes winner, photo by Adam Coglianese/NYRA Photo.