"The object of your mission is to explore the Missouri river, & such principal stream of it, as may offer the most direct & practicable water communication across this continent." --Jefferson 1803
The Lewis & Clark Trail: 200 Years Later
A (((HearingVoices))) Radio Special
For the Lewis & Clark Bicentennial 2003-2006
Hosted by Josef Verbanac of AIRmedia.org (= 28K)
Biking & Mic-ing Today's Trail, A Contemporary Corps of Discovery
"It's the emblematic American journey. In U.S. history there is always a tension between home and the road. We talk a good talk about the joys of home, but the truth is we are obsessed with the road." --James Ronda, Time Magazine
• Barrett Golding's "Great Pains & Accuracy Tour" from Missouri to the Mandans
• Larry Massett's "On the Trail of Lewis &amp Clark" over the Rockies to the Pacific.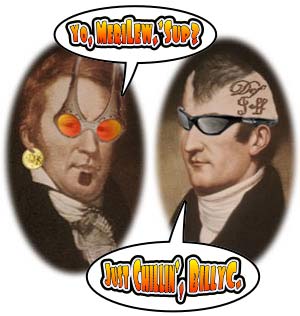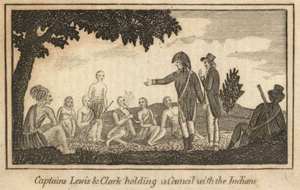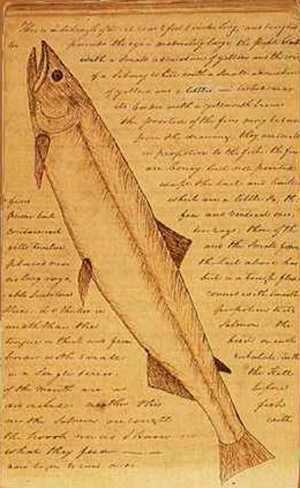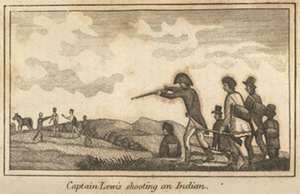 "I am a reader of maps, not usually nautical charts but road maps. I read them as others do holy writ, the same text again and again in quest of discoveries, and the books I've written each began with my gaze wandering over maps of American terrain." --William Least Heat-Moon, River-Horse

200 Years Later- Part 1(34:00)
"Great Pains & Accuracy Tour"- Barrett Golding and Josef Verbanac -- a radio producer and an English professor, a Jew and a Souix -- bicycle beside the Missouri River from St. Louis to Fort Mandan, North Dakota. The question: What have we done with the woods, waterways, prairies and towns these past two centuries?
"This day I completed my thirty-first year, and conceived that I had, in all human probability, now existed about half the period which I am to remain in this sublunary world. I reflected that I had as yet done but little, very little, indeed, to further the happiness of the human race, or to advance the information of the succeeding generation. I viewed with regret the many hours I have spent in indolence, and now sorely feel the want of that information which those hours would have given me had they been judiciously expended. But since they are past and cannot be recalled, I dash from me the gloomy thought, and resolve in future to redouble my exertions and at least endeavor to promote those two primary objects of human existence, by giving them the aid of that portion of talents which Nature and fortune have bestowed on me; or, in future, to live for mankind, as I have heretofore lived for myself." --Meriwether Lewis August 18th 1805

200 Years Later- Part 2(23:00)
"On the Trail of Lewis &amp Clark"- Larry Massett and Barrett Golding pedal over the Rocky Mountains, down the Columbia River to the Pacific Ocean, interviewing whoever they find on the path: wind surfers, church organists, forest service employees, and "we've been talking to as many loggers as we can, to try and find out if they don't see bicyclists, or they just hate us."
"Lewis and Clark's journey marks one of the few happy moments in this place we call the West. After them, it will be all downhill, a spiral of killing and looting and displacement and disease." Charles Bowden Blood Orchid

Lewis & Clark- Writings, Websites


Larry Massett- Long Day on the Road


Barrett Golding- Audio Adventures of the Wandering Jew


Verbanac/Golding- Bike Diaries


Transom/Talk - 2002 | 2001 | From Edit to Air
"Know most of thy native country before thou goest over the threshold thereof." --Thomas Fuller (historian of olde England)