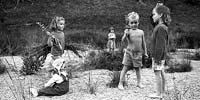 © Scott Carrier
Father Figures 1 (23:00)
This text is replaced by the Flash movie.
Scott Carrier gives his son Milo a "Ski Lesson." From Animals and Other Stories we hear "Reflections of Fathers," aka, Bugs & Dads (producers: Jay Allison & Christina Egloff, music: Ben Verdery & Rie Schmidt). Comic strip artist Lynda Barry wishes her divorced dad a "Happy Father's Day." A doctor tells his daughter about her granddad in "Story Corps- Dr. William Weaver." And "Grilling Me Softly" is how host Jay Allison describes his daughter's questions about his love life.
Father Figures 2 (29:00)
This text is replaced by the Flash movie.
Dan Robb's family remembers the day "Dad's Moving Out" (from Jay Allison's Life Stories). "Doc Merrick" and daughter Viki go through some girl problems. David Greenberger tells David Cobb's story "Because of Dad" (music performed by Bangalore, composed by Phil Kaplan). Deirdre Sullivan's father advises "Always Go to the Funeral" (from This I Believe). And Dave Masch wants to be "A Better Father" (produced by Viki Merrick).
---