K I T C H E N S I S T E R S
From 1983, a KitchenSisters sound-portrait: Tupperware, still sounds fresh today:
28K|14K (5:23)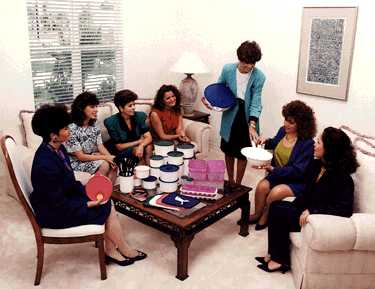 Hosting a Demonstration is fun and rewarding!


You get to visit with friends and just for introducing them to Tupperware® you'll get a free Thank You gift. As a hostess, you can earn free Tupperware® products like Modular Mates® sets or Double Colander.
Tupperware® products sell themselves!
Tupperware® products have extraordinary design for everyday living, with quality you can count on.
Tupperware Fundraising!


And hey, the folks at Tupp® want you to know about: Tupperware Fundraising. A Strong Brand Name. Serving America's schools and non-profits for over 20 years.

Ernie Morgan
28K | 14K (6:23):
Shoot some pool with ``The greatest ever, that's what they call me now..."
Call the 14.4 in the corner pocket, or the 28.8 off two banks.
``It just got in my blood, just like a man on dope, or drinking whiskey, you know, it gets in your blood, you gotta have it. I'd die if I didn't get to play sometime every day a little bit. The football shot, I'll show you that in a minute..."


The Kitchen Sisters are keepers of Lost and Found Sound, Hidden Kitchens, and the Sonic Memorial Project