Solidod on KQED
KQED listeners, here's links to Solidod's story and her e-book, An Apache Original: The Life and Times of Solidod
.
---
Charles Bowden (1945-2014)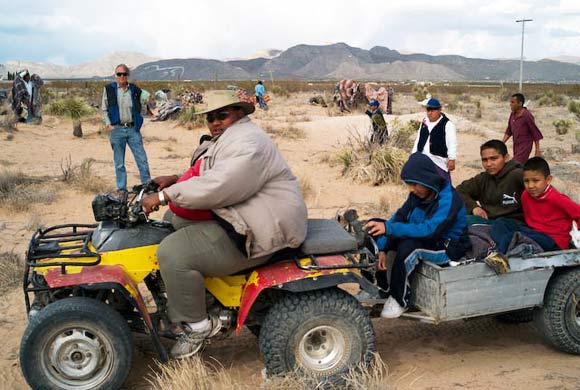 We lost a great writer on August 30 2014. Charles Bowden, Hearing Voices favorite non-fiction revealer of harsh truths and stark insights, has died.
This photo of Bowden on the Mexican border is taken by his friend and colleague Julián Cardona. Read Bowden's "Juárez: Killing Is Fun" with etched artwork by Alice Leora Briggs. Bowden is also featured in our Juárez: City on the Edge and our HV hour "Crossing Borders".
HV producer Scott Carrier was Bowden's close friend and collaborator. The storytellers in this Carrier sound-portrait are all people Bowden wrote about and editors he worked with. Listen to "The Thing Just Beyond Our Reach" (22:41 mp3):
---
Sonics IDs (for KGLT-Bozeman)
Short Sound-Portraits of Montana People & Places
---