2011-01-19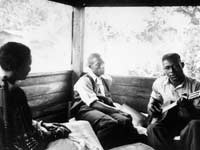 Hearing Voices from NPR®
108 Making Music: For a Living, For a Life
Host: Barrett Golding of Hearing Voices
Airs week of: 2011-01-19
"Making Music" (52:00 mp3):

Making music, for a living, for a life:
The Maddox Bros. & Rose were America's Most Colorful Hillbilly Band. In the 1930s, 40s & 50s, the four brothers and sister/singer Rose paraded thru America in their colorful Cadillacs and cowboy outfits. "Their costumes make Liberace look like a plucked chicken," said Tennisee Ernie Ford.
Born to sharecroppers in Boaz, Alabama, they rode the rails and hitch hiked to California in 1933, where they formed the band. Their sound was both old-timey and western swing; their rhythms helped plant the roots of rockabilly. Ginna Allison's sound-portrait features interviews with Rose Maddox, Tennesse Ernie Ford, Cliffie Stone, and her co-prodcuer on this piece, TJ Meekins of KVMR-Nevada City CA. (Images: Maddox Bros. & Rose: Myspace, Rockin' County Style)
A preacher's son, met in a North Carolina thrift shop, comes over the house to play guitar, and talk Jesus, G chords, and Gilligan's Island. Carmen's grandmother would not approve. Produced by Jay Allison for This American Life (PRX).