2009-01-14

Hearing Voices from NPR®
046 All Happy Families: Love and Loss
Host: Larry Massett of Hearing Voices
Airs week of: 2010-02-10 (Originally: 2009-01-14)
"All Happy Families" (52:00 mp3):

Tolstoy wrote, "Happy families are all alike; every unhappy family is unhappy in its own way." But sometimes it's hard to tell who is and isn't happy:
After decades together, the Nadeaus find their husband/father has a secret. This story, told by family friend, come to us from Transom, which has a longer version, with photos and family history. [Music: Bach Six Cello Suites performed on viola performed by Patricia McCarty (Ashmont Music), Stravinsky ""Apollo" Three Greek Ballets performed by London Symphony Orchestra (Naxos).]
Steve Fugate roams the roads of America, walking thousands of miles with a sign stuck over his middle-aged head that reads "Love Life" — because of what happened to his son; recorded by Mark Baldwin, produced by ).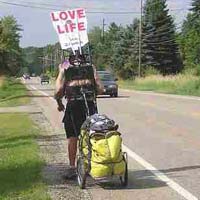 Follow Steve's writing and walking at Trail Therapy. [Music: Stravinsky "Agon" Three Greek Ballets performed by London Symphony Orchestra (Naxos), Bach Six Cello Suites performed on viola performed by Patricia McCarty (Ashmont Music), Dolly Parton "Silver Dagger" The Grass Is Blue.]
We follow an evolution of relationships revealed in conversations between Greg Sharrow, his mother Marjorie, and Greg's husband Bob Hooker, as Marjorie's dementia progresses. Produced with the Vermont Folklife Center. Transom has the original longer version, with photos. [Music: Karinne Keithley.]