2010-09-01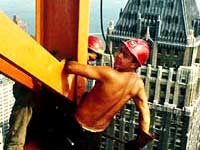 Hearing Voices from NPR®
098 Working Class: For Labor Day
Host: Barrett Golding of Hearing Voices
Airs week of: 2011-08-31 (Originally: 2010-09-01)
"Working Class" (52:00 mp3):

Our Labor Day weekend welcome to the work week looks at what we do for a living:
Exercises for existential overworked, undervalued employees: a more realistic approach to yogic spiritual awareness for the cubically encased.
Produced by Rebecca Flowers, author of Nice to Come Home To
.
Pasquale Spensieri spends his days driving around Brooklyn looking for dull blades. When he rings the bell on his truck, the owners of upholstery shops, restaurants and pizza parlors come out with knives and scissors to sharpen. Pasquale's father first started sharpening knives during the Depression, with a pedal-operated grinding machine strapped to his back. At that time, there were hundreds of door-to-door grinders in New York. Today, at the age of 71, Pasquale is one of the last. Produced by Joe Richman and Emily Botein (WNYC) for their series New York Works.
Since the 1880s, Mohawk Indian ironworkers have been known for their ability to work high steel. From the Empire State Building to the the World Trade Center, generations of Mohawks have helped shape New York City's skyline. Each week, they commute to Manhattan from their reservation in Canada, framing the city's skyscrapers and bridges. In September 2001, after the fall of the Trade Center Towers, the sons and nephews of these men returned to the site to dismantle what their elders had helped to build.