2008-11-12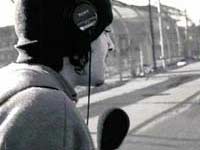 Hearing Voices from NPR®
037 Prison: Life Behind Bars
Host: Joe Richman of Radio Diaries
Airs week of: 2010-03-17 (Originally: 2008-11-12)
"Prison" (52:00 mp3):

A Prison Diary (2001 CD | NPR series) from a former Polk Youth Institution, North Carolina. Former inmate. John Mills is out now and co-hosts our hour with Prison Dairies producer Joe Richman. (Check the accompanying Picture Projects 360 Degrees, a multimedia "Perspectives on the U.S. Criminal Justice System."
Voices and sounds of youth in at Utah's Washington County Crisis Center, a techno tone poem. Handcuffs, metal detectors and slamming cell doors are striking musical instruments, and incarcerated teenagers in this streetwise chorus. (PBK: site | space.)
Payton Smith's calls her mom in prison with some questions, produced with Transom.
Another Prison Diary from Sergeant Furman Camel, a guard at Polk Youth Institution, North Carolina.
The Louisiana State Penitentiary, Angola Prison, is a sprawling old plantation on the Mississippi River. Angola holds more than five-thousand prisoners, mostly African Americans. Unless they're pardoned by the Governor, lifers know they will never again see the outside world — that they will die inside Angola prison. Producer: David Isay with Wilbert Rideau and Ron Wikberg; mix engineer: Anna Maria deFrietas.