2011-08-27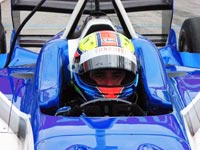 Hearing Voices from NPR®
121 Engine Overdrive: Ode to Internal Combustion
Host: Barrett Golding of Hearing Voices
Airs week of: 2011-08-24
"Engine Overdrive" (52:00 mp3):

Ride, rev, race, the society of over-sized cylinders:
A short symphony in pistons and rings, made from tractors recorded at the Reidsville, NC Antique Engine Show. All sounds are actual engines; the piece has no instruments or effects. Paul Overton is at: Dude Craft | Every Day is Awesome | PRX.
A pre-race prayer delivered at the Nascar Nationwide series race in Nashville TN July 23, 2011. Boogity Boogity Boogity Amen.

HV is crazy about the songs and sonics by the band Big Stick (aka,Drag Racing Underground). We start with a couple cuts from their CD Hot from the Strip! — "Drag Racing" is a re-issue of their 80s classic, and we hear excerpts from "Wildgirl's Rockin' Racing," a Saturday night WFMU radio show.
The ethanol-injected noise of cars, drivers, and fans at the annual Toyota Grand Prix of Long Beach, an ocean-side street race with top pro race-car drivers from around the globe. One-hundred-and-eighty thousand aficionados gather around a two mile course of Fast & Loud in downtown LB — 186mph avg, 200+ on the straightaways. Co-recorded by Joe Skyward.