2011-05-11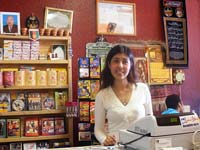 Hearing Voices from NPR®
115 Refugees: Forced to Leave
Host: Barrett Golding of Hearing Voices
Airs week of: 2011-05-11
"Refugees" (52:00 mp3):

The journeys of people driven from their homeland by war, disaster, and persecution:
From One Thing: The producers spent a year talking to refugees living in USA about why they had to leave their country, how they got here, and what "One Thing" they brought with that reminds them of home. In this first of several stories from the series, the Sher Ali family, a mother and nine children, was the first Afghan family to be resettled in Amarillo, Texas in 2000. They fled the Taliban in the middle of the night with only the clothes they wore. Their one thing was a photo of their father. (Produced for Weekend America w/ photo gallery.)
The stories of Burmese refugees, the Karen people, recorded in the camps on the Thailand-Burma border, and in their new American homes. Thru it all their music preserves their culture. Part of The Mountain Music Project.
The One Thing for the Augustin family was their home movies. Their religious beliefs forced them out of Iraq: Mom Nujood is a Chaldean Christian and Dad Abdullahad is a Latin Catholic. The Augustins left a comfortable life in Baghdad for Jordan, where limited opportunities siphoned much of their savings. They arrived in Detroit, where son Arkan takes pre-med courses at the local community college, while working part-time at a grocery store. (Produced for Weekend America: From Iraq to Detroit.)
Starting with the fall of Saigon in April 1975, refugees from Vietnam awaited approval to move to the US and other countries. By 1979, there were almost 62,000 Vietnamese in refugee camps, with more than 140,000 people displaced from Cambodia and Laos. Portland, Oregon, was one of the medium-sized US cities that dealt with the relatively sudden influx of every major ethnic group (Vietnamese, Lao, Hmong, Mein and Cambodian) from Southeast Asia. More than 25 former refugees were interviewed for radio piece, and movie below.