2008-05-28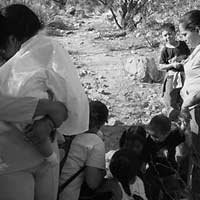 Hearing Voices from NPR®
013 Crossing Borders: From Mexico to US
Host: Marcos Martinez of KUNM-Alberquerque
Airs week of: 2012-01-18 (Originally: 2008-05-28)
"Crossing Borders" (52:00 mp3):
A Tale of Two Countries:
In "Sasabe," a Sonora, Mexico border town, Scott Carrier talks to immigrants on their hazardous, illegal desert crossing, and to the border patrol waiting for them in Sasabe, Arizona.
Luis Alberto Urrea reads from his books Vatos and The Devil's Highway, about death in the desert.
Guillermo Gómez-Peña imagines "Maquiladoras of the Future," fantasy border factories.
"And I walked…", by Ann Heppermann and Kara Oehler, is a sound-portrait of Mexicans who risk their lives to find better-paying jobs in the United States.
And sounds from the Quiet American's one-minute vacation.
Photos © 2004 Julián Cardona from Sasabe, Sonora, Mexico :