Shoah is Hebrew
for whirlwind --
complete destruction.
Yom Ha Shoah-
Holocaust Remembrance Day
2005 Friday, May 6 (observed May 5)
2006 Tuesday, April 25
2007 Monday, April 16
2008 Thursday, May 1
2009 Tuesday, April 21
2010 Sunday, April 11
Holocaust Memorial Week-
Day of Remembrance
May 1-8 2005
The Phone Number
Daily he quietly sits on the park bench
warmed by the sun
and the sounds of life.
He hears the sounds that annoy others,
hungry baby birds screeching
and overtired babies gently crying.
For a long moment he remembers when there were
no sounds of life
only of cruel death.
He see the panicked faces, hears the piercing
and silent screams, smells the
burning flesh.
The moment abruptly ends and the sun warms
the numbers on his arm, faded
but forever ingrained.
And when the freckle-faced boy asks him
why he wrote his phone number on his arm,
the old man's heart smiles,
warmed by the sun and the sounds of life,
and he gently replies,``So I won't forget."
And so we don't forget. --Adam Borland, Grade 11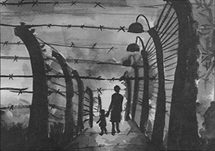 --Victoria Zhitnik, Grade 10
Poem and Painting: Winners of the 1994 Shoah Student Arts/Poetry Awards, Jewish Community Center, Cleveland Heights OH. Other photos courtesy of U.S. Holocaust Memorial Museum.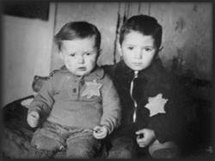 Kovno ghetto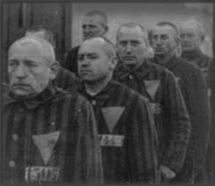 Sachsenhausen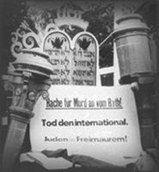 Kristallnacht
"Descended from the Holocaust" - Dr. Alan Berkenwald's parents never talked to him about their experience in the concentration camps. Last summer, at age 41, when Alan found out that his parents and their survivor friends had rented a bus to visit the Holocaust Museum in Washington, he asked if he could come along and bring a tape recorder. Produced by Jay Allison with Christina Eggloff, from their series Life Stories.

"Yom Hashoah 1994" combines music and prayers from Shoah services (Congregations Beth Aaron- Billings MT & B'nai Jeshuran- Cleveland OH) with survivor interviews. And it documents the Billings communities united, emphatic "Not in Our Town" response that stopped a series of anti-Jewish crimes. Cleveland recordist was NPR's Rick Karr. Billings recordist and story producer was Barrett Golding.

"Death Marches and Liberation" produced by David Notowitz as part of "Voices of the Shoah: Remembrances of the Holocaust," a project of Richard Foos, President of Rhino Records, narrated by Elliot Gould; drawn from interviews with 180 survivors; available as a 4-CD box set, with a 100-page book of photos, interviews and historical perspectives. Also live May 1945 BBC reports "From Belsen Concentration Camp" by Patrick Gordon Walker.