Memorial Day ceremony at the American Cemetery in Suresnes, France, Mar 30 1920
For the Fallen– Radio Special
for Memorial Day, Monday May 28 2007
Hosted by Major Robert Schaefer, U.S. Army Special Forces
For the Fallen 1 (23:00)
This text is replaced by the Flash movie.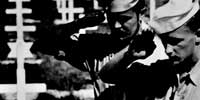 Host Major Robert Schaefer, U.S. Army Special Forces, a Green Beret and poet, reveals his love-hate relationship with the bugle call "Taps." We join a "Military Honor Guard" in Long Island, recorded by Charles Lane. We hear interviews with World War Two and Vietnam vets from the public radio's StoryCorps and This I Believe series. Composer Phil Kline sets to music the slogans Vietnam soldiers etched into their lighters, in Zippo Songs. And we attend the daily ceremony by Belgian veterans honoring the WWI British soldiers who died defending a small town in western Belgium (produced by Marjorie Van Halteren and Helen Engelhardt).
For the Fallen 2 (29:00)
This text is replaced by the Flash movie.
We hear troops returning from Iraq and Afghanistan, reading their emails, poems, and journals, as part of the NEA project: "Operation Homecoming," and selections from the NEA CD Operation Homecoming: Writing the Wartime Experience with well-known authors reading their poems, prose, and essays about their time in the military. (Major Schaefer, the Host of this special, contributed the poem "Clusters" to the book.)

Military Funeral Services Over Time
1) Civil War veteran standing and saluting with a Boy Scout and a soldier at a gravesite in Oak Woods Cemetery on Memorial Day. (LOC)
2) Standing in the grassy sod bordering row upon row of white crosses in an American cemetery, two dungaree-clad Coast Guardsmen pay silent homage to the memory of a fellow Coast Guardsman who lost his life in action in the Ryukyu Islands." (NARA)
3) The crew of the USS SOUTH DAKOTA stands with bowed heads, while Chaplain N. D. Lindner reads the benediction held in honor of fellow shipmates killed in the air action off Guam on June 19, 1944. July 1, 1944 (NARA)
4) With a canvas tarpaulin for a church and packing cases for an altar, a Navy chaplain holds mass for Marines at Saipan. The service was held in memory of brave buddies who lost their lives in the initial landings." Sgt. Steele, June 1944. (NARA)
5) Sailor and girl at the Tomb of the Unknown Soldier, Washington, D.C. (LOC)
6) A Marine at Vietnam Memorial on 4th July 2002. (Wikipedia)
7-9) Ceremonies for offloading caskets at Dover Air Force Base, casualties from OIF.