Tag: africa/Archives
2012-01-26

"Voices from Tahrir", a Storify list of sources, resources, sounds, inspirations, and videos used in the making of the public radio hour: More…
2012-01-25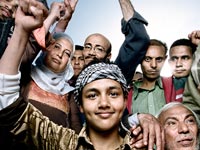 Hearing Voices from NPR®
131 Voices from Tahrir: Portrait of a Revolution
Host: Heba Morayef of Human Rights Watch
Airs week of: 2012-01-25
"Voices from Tahrir" (52:00 mp3):
Bread, Freedom, and Human Dignity:
January 25, 2011. One year ago, a revolution began in Cairo's Tahrir Square. For the next eighteen days, millions of Egyptians across the country would demonstrate in the streets, demanding the end of their 30-year dictatorship. They were inspired by Tunisians, whose protests, that same month, had forced out the authoritarian regime of President Zine El Abidine Ben Ali. Now it was time for Egyptian President Hosni Mubarak to go.
A few weeks after the protests, the advocacy group Human Rights Watch interviewed some of the organizers of the January uprising: union leaders, civil rights workers, young social media activists, family members of of murdered protestors, and mothers who brought their kids to Tahrir to clean after the protests.. These Human Rights Watch interviews provide a rare, eyewitness account of a revolution, told by the Egyptian people, the activists, human rights defenders, and bloggers who persevered during those eighteen days.
The hour features recordings made in the square by reporters and citizen jounalists from around the world, including Daniel Finnan of Radio France Internationale, Al Jazeera, Egypt Daily News, Ramy Roof, and Matthew Cassel of Just Image.org.
Music: "Erhal (Leave)" and "Laugh, Revolution" by Ramy Essam; "Ezzay? (Why?)" by Mohamed Mounir and "Gomaa Hayran (Uncertain Friday)" by Joseph & James Tawadros
from the collection Our Dreams Are Our Weapons – Soundtracks of the Revolutions in Tunisia and Egypt
. Mix: Robin Wise of Sound Imagery.