2011-04-16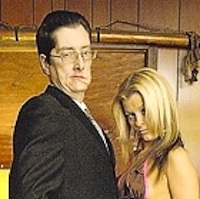 Want an interview w/ Jay Thunderbolt, At-Home Strip Club Manager? Well, bring money. If you can't, bring booze. But not beer: Jay drinks Tequila. And he'll drink the whole bottle with you in a couple hours, while unleashing The Wisdom of Jay Thunderbolt.
His face looks like that b/c he was shot in the head and left for dead — at 11yo. How much is a dance? "$10 with the g-string on; $20 with it off. No licking, sticking, biting or slapping."
The piece is a Love + Radio podcast (28min) with some wonderful moments. Jay's "Things I do know…" is pure poetry, as is the original music score by Brendan Baker — love that "Doberman" mix near the top.