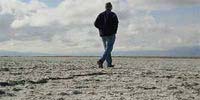 Death Valley desert towns and denizens.
Broadcast: Jan 3 2007 on PRX Nature Stories Podcast; Mar 4 2005 on WNYC Radio Lab; Mar 26 2004 on PRI/MPR Savvy Traveler Subjects: Environment, Travel, Cultural
Mojave Road
by Benjamin Adair
HOST: Walking alone through the Mojave Desert, try to pick up pieces of time and measure their past, present and future. Reporter Benjamin Adair traveled the disappearing road into the Mojave Desert, where he discovered faint imprints of life -- legends of a feisty 95-year-old "desert rat," operas written by a middle-aged dancer, and singing American Indians.
BEN ADAIR: The desert doesn't so much sneak up on you … driving north from Los Angeles over the San Gabriels, the city and suburbs start melting into sandy, arid terrain. Dense sprawl gives way to big box stores on Lowes Drive and K-Mart Place. The biggest Beds, Baths and Beyonds I've ever seen.
Then those just … disappear. Commerce dries up into withered old grocery stores lit by single strips of fluorescent lights. The sedans and commuter cars turn into battered old pickup trucks and Range Rovers with snowboards on top. Yuppies streak up the Antelope Valley Highway toward Mammoth Mountain and inches of fresh powder.
The Mojave Desert is a "rain shadow desert." All but the most powerful storms are stopped dead by the Sierra Nevada. In winter, high clouds taunt the Mojave Desert floor – the sky's gray, the land a cracked light brown … desiccated mountain ranges and low bushes fill in the monochrome. There's a solitary trailer here, some plywood and a tarpaper roof over there. Streets off the highway have names like EP15. The pavement goes maybe 20 feet before turning to sand and rock.
(SOUND: Car approaching and turning off onto dirt road.)
These are old mining roads. Once upon a time, hopeful men and women looked for outcroppings of quartz, iron, copper and when they found them – this is public land administered by the Bureau of Land Management, the BLM – they filed a claim and dug. Sometimes there were nuggets, but more often flakes. Today, dune buggies and motorbikes tear up these hills. Digging is rare and blasting even rarer.
But, follow EP15 and you'll see the signs for the Burro Schmidt Tunnel. Between the years 1906 and 1938, a lone miner dug and blasted a 2,087-foot hole straight through a granite mountain. His name was "Burro Schmidt" and he first filed this claim in 1904. Today, David Ayers digs here. He gives tours of Burro's tunnel. He says miners still roam these hills.
DAVID AYERS: "and the way he got his name, Burro Schmidt – he always had two burros with him, Jack and Jenny. And when they died Burro of course didn't waste anything, so he ate them. (laughter) And Burro died in 1954. They had his funeral right in front of the tunnel entrance. And in 1963, Tonie and her husband came up. For the next 40 years, she was up here. Tonie died up here on her bed inside her house like she wanted to at the age of 95.
BEN: Wow.
DAVID AYERS: That old woman was legendary. She was scared of nothing and when she died up here she didn't die alone- I was there by her side and her daughter from Vermont was up here too. But she never backed down from a fight. There was this time when she was 75, she had a fistfight with a guy right in front of her house and she won the fight. She cheated but she won the fight.
BEN: What happened?
DAVID AYERS: She had a roll of nickels in her fist, but she never backed down from a fight.
BEN: So how long are you gonna stay up here?
DAVID AYERS: I got to be out the 29th of this month. The BLM is going to take over the place and run it. They're gonna save burro's cabin, they're going to save Tonie's house over there. Everything else is going to be bulldozed and cleared out. Which is unfortunate because they're going to change the way history looks. This is basically the camp that an old woman built up. It's not supposed to be Disneyland. If you want Disneyland, that's in Anaheim. If you want a desert camp this is just the way some of them look.
BEN: So this has been going on for a long time this BLM stuff?
DAVID AYERS: Yeah, quite a while. Tonie, since she lived her so long, they didn't bother her they just waited for her to die. She expected me to save the place. I promised her she would die up here on her bed like she wanted to. I kept that promise. The second promise I couldn't keep. I tried. In fact, a lot of people tried.
BEN: You all were pretty close, huh?
DAVID AYERS: Geez. I'm never going to stop missing her. Never. There was no one else like her.
David Ayers is gone now. But before he left he looked over his ramshackle camp and told me not to be sad. The days of the desert rat are already gone. What's here is just a corpse.
(SOUND: Birds. Car drives by.)
BEN: People who spend time in the Mojave start thinking differently about space. Huge stretches of land without a house, a telephone pole, or high-tension wire. You can close your eyes while sliding between mountain ranges at 80 or 100 miles an hour. "I'd love to drive Death Valley in a really fast car," a friend of mine said. "A really, really fast car."
(SOUND: Car drives by.)
BEN: Death Valley is probably the best-known part of the Mojave Desert – the National Park fills over 5,000 square miles of red stone hills, mini Grand Canyons and vistas. Echoes come back to you three, four, five times.
Dropping down onto the valley floor from the west, you see huge salt flats below … reddish brown mountains peak in the distance … and between them, huge washes of boulders, rubble and sand flow into Death Valley like a dam bursting in extreme slow motion.
(SOUND/MUSIC: Rain, Mosaic Canyon stream.)
BEN: It rains rarely in Death Valley. When I was there, a light drizzle caused a flash flood in Mosaic Canyon, where sculpted marble walls drop down hundreds of feet to a teeny tiny streambed. The stream fans out here and Mosaic Canyon is a temple of reds and whites, arcing domes and voluptuous curves. There, it sinks down deep into the rock, making hard stone look supple.
Death Valley exists in "geologic time" – the oldest rocks at Badwater are 1.8 billion years old. Standing here, watching the stream flow, I started thinking about that Mars Rover. I thought about my girlfriend, my family and politics.
Mosaic Canyon sinks a tiny bit deeper each year. One hundred human empires will rise and fall in the time it takes Death Valley to notice our passing.
(SOUND/MUSIC: Crowd noise. Esmeralda's song: "The Masquerade is a realm of illusion. Held once each year to relieve us of the pressures of one more year.")
Highway 190 bisects Death Valley. East of the park it dead-ends in Death Valley Junction … a former ghost town revived 36 years ago, when Marta Becket re-opened the Amargosa Opera House. This is the second season of her show, "The Masquerade."
(MUSIC: Esmeralda's song: "I always thought that I should be / Someone else other than me / I'm so bored with the role I play / I need to escape for a day.")
Marta Becket is a dancer – she spent the first half of her life on stage in New York. In her early 40s, she found this abandoned theater … she patched the roof, painted an audience on the walls, sewed the curtains, the costumes, wrote the script and choreographed the dance. Saturday nights sell out.
MARTA BECKET: They're like mini musicals, if you wanna call them that. The one before this was called the Doll Maker, about a doll shop you can buy the perfect companion for life and not deal with the real one. It was quite controversial. I made a few enemies out of that.
BEN: You did? What happened?
MARTA BECKET: I did it anyway. Some people loved it because of the intent.
Like the Doll Maker, The Masquerade asks questions about identity – who we want to be versus who we end up being. And it sort of summarizes why a lot of people move to the desert: there's a freedom here.
In New York it's like trying to paint on a canvas that's already been painted on. Out here it's an empty canvas. For my mind to envision whatever I want to create.
Well in the beginning, people thought I was eccentric. But as the years went by they saw I was serious. Then they saw I was a success and that really snapped it. Now they like me. I'm not a weirdo.
BEN: Do you ever hear from your friends in New York?
MARTA BECKET: Oh yes. They think it's great. At first they thought I was crazy, but now they think it's great.
BEN: Do they ever come visit?
MARTA BECKET: Oh yeah. Once a year.
(MUSIC: Verdi ends. Drums)
BEN: Nobody really knows who was first, though anybody can tell you why: cheap land. As city real estate's spiraled out of control, artists, musicians, old hippies migrated here: the extreme south end of the Mojave Desert. Tucked away around Pioneertown, Joshua Tree and Yucca Valley are free spirits living off their art.
Of course, the land grab is the cynic's point of view, and it's easy to feel jaded around young kids singing and old men drumming. "Urban sophistication" is when you refuse a stranger's hug or laugh, no questions asked.
But those who've dropped their cynicism will tell you this place is of optimism and hope. It's genuine. The woman cooking brought extra burgers to share. The climbers are back with their instruments looking for accompaniment. No experience necessary. The Indians sing because it feels good. You can feel good too if you want. It's your choice.
BEN: Tell me your name, and how old you are and where you're from.
SONNY TWO FEATHERS: My name is Sonny Two Feathers. I'm 27 years old and I'm from Kamsack, Sasketchwan. Canada.
BEN: Describe for me what we're looking at right here and tell me how you see that?
SONNY TWO FEATHERS: Right now what I'm looking at is a beautiful desert paradise that has boulders and symbols of hands and symbols of people of animals and spirits. I see beautiful trees in front of me. Reaching to the sky, reaching up to pray to the creator. And it's all glimmering in the moonlight. It's alive. When people are out here, all their stress and worries and problems go away. Fear leaves them. Today we had people drive out from SD, LA Barstow and they're here because they want to be here to fellowship with one another. And to laugh and remember what it's like to laugh and let the worries go away. We all are just approaching our way of worshipping in diff ways. But it's so hard with society now. We don't know how to escape this control that they have over us. When we're here, it's just happy and everything just blows away with the wind.
(SOUND: Birds, car, dogs.)
BEN: In 1989, a sculptor named Noah Purifoy bought a ranch on the flats north of Yucca Valley. Purifoy's probably best known for founding the Watts Towers Arts Center in 1964, but he also made huge assemblage sculptures from lost and found desert objects. Some are serious, but most are whimsical. All are in pretty bad shape. His first few years here, Purifoy fought the elements, but later, he incorporated their effects. A sculpture is never done, he surmised. After he built it, the weather continued the process.
I went out to talk to Purifoy. But I was a day late. When I got there, I phoned his assistant and she told me that he'd passed away the morning before. She was devastated. After hanging up, I walked around his garden. I wandered down a sculpture built like a hallway … filled with old calculators, cash registers and boards with rusty nails sticking out.
I stood there thinking about this man who had just died … and I started thinking about those old miners … their desert way of life. I thought about Marta Becket singing her operas for 36 years and I thought about Death Valley – the sense of time there that threatens to make everything we do here absolutely irrelevant. Everything. I thought about these sculptures decaying, the miners disappearing, all the artists dying and every last one of us, the entire human race turning to dust and blowing around the Mojave Desert in the wind.
Noah Purifoy once said that after he finished his sculptures, they take on a life of their own. I'm going to hope he's right about that. I really need to believe it's true.
This is Benjamin Adair for the Savvy Traveler.
---