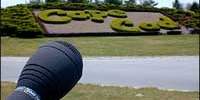 An audio snapshot of a Massachusetts hairdresser.
Broadcast: Apr 8 2004 on NPR Day to DaySeries: WCAI/WNAN Sonic IDs Subjects: Labor, Business
Profile: Massachusetts woman says being a hairdresser beats everything but brain surgery
April 8, 2004 from Day to Day
ALEX CHADWICK, host: Publicists may think they're a movie star's best friend, but another group of professionals could lay claim to that title: hairdressers. Here is an audio snapshot featuring a woman who thinks hairdressing is her calling.
Ms. SANDY MARONEY (Hairdresser): I do like this job. It's probably the most rewarding job, except for brain surgery. And I've been a hairdresser for 38 years. Most of the job is haircutting. That's the key to everything--your perms, your color. What I like best about the job is pretty much the people. You have the capacity to touch people. And it's a good feeling. It makes it a lot more personal. And you make them feel better, hopefully. Unidentified Woman: And what do you like least about the job? Ms. MARONEY: The hair that gets stuck in my navel from the haircuts. But that goes with the job. CHADWICK: Sandy Maroney(ph) is a hairdresser in Sandwich, Massachusetts. Our thanks to producer Helen Woodward and our friends at the Hearing Voices radio project. I'm Alex Chadwick. This is DAY TO DAY.
---