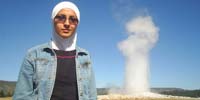 College kids visiting from Arab countriesspeak their mind.
Broadcast: Nov 26 2007 on HV PODCAST; Nov 3 2005 on NPR Day to Day Subjects: Youth, War, International
Profile: Arab students in America
November 3, 2005 from Day to Day
MADELEINE BRAND, host: This is DAY TO DAY. I'm Madeleine Brand.
The Muslim holy month of Ramadan is drawing to a close. Many non-Muslim Americans have become interested in Ramadan and other aspects of Muslim culture post-9/11, but there is still mistrust between the US and many Muslim countries. Recently, the State Department arranged for a group of college students from Arab countries to spend a couple of months traveling around the US. Producer Barrett Golding caught up with them and asked them a basic question: Why do you think our two cultures are having problems getting along?
MORAJAT(ph) (Moroccan Student): I'm Morajat from Morocco. I want to sing a song in Arabic, OK? (Sings in Arabic)
MUTASERA(ph) (Palestinian Student): Yeah, I think--my name's Mutasera. I'm from Palestine. As you know, my country's very--gives you a lot. I think--yeah, I think I'm just going to tell you a story, and I think you can conclude of it exactly what you want. In 2001 the second occupation of my city--my city is Nablus--when I go across the street with my father, just finally to get there, being shot from Israeli soldiers in my thigh. Now when I'm in the hospital, the doctor bring me the bullet and I saw on the head of this bullet `made in USA.' I'm just--conclude the rest by yourself. This is all.
NIVEAN(ph) (Lebanese Student): I'm Nivean. I'm from Lebanon. Most of the Americans don't know that we have very low crime. Like here in America, every three or four minutes I hear there's a murder or a robbery on something bad that's going on. But in our country is no. A murder happens like--how low is it? It's like once a week.
Unidentified Man #1: Yeah.
Unidentified Man #2: In the whole country?
NIVEAN: Like here--in whole Lebanon, yeah.
Unidentified Man #1: In the whole country, yeah.
NIVEAN: But here you hear about it on the news. You hear about 10 murders, homicides, I don't know what. You have very--you have very angry people.
(Soundbite of laughter)
NIVEAN: Yeah, very frustrated with each other. But we are not. We are very peaceful.
AKRAM(ph) (Lebanese Student): OK, my name is Akram. I'm from Lebanon. A little statement is that we as Arabs don't have a problem with the Americans as a people, as a nation. We admire them, respect them. We hear their songs. We eat your food. We listen to your music, everything. We people can get along with each other. We are in the USA, have been for three weeks, and we have no problems with anybody. But there exists a gap between the US people and the US government, and this gap leads to the gap between the West as a whole and the Middle East and the Arabs.
Let's speak about Iraq, for example. There's a great debate here inside the USA and outside USA and in the Middle East and the whole world whether the war on Iraq was meant against terrorism and weapons of massive destruction or whether to, let me say it, take control over Iraq's oil. This is a debate. I don't think it's a resolved issue up to now, neither in the Middle East nor here in the USA. That's it.
AKBAS(ph) (Iraqi Student): Hi, OK, my name is Akbas from Iraq.
SOLOMON(ph) (Kuwaiti Student): I'm going to be translating for him. My name is Solomon from Kuwait.
AKBAS: (Foreign language spoken)
SOLOMON: He wants to speak briefly about the situation in Iraq. He feels like the American Army shouldn't go out of Iraq right now.
AKBAS: (Foreign language spoken)
SOLOMON: The situation is getting worse and worse. So if they even get out of Iraq, it would even be more severe. OK.
AKBAS: (Foreign language spoken)
SOLOMON: And for the matter of the United States coming to Iraq for control, he doesn't think that's true because they have liberated them from something that's wanting in their wildest dreams, the regime in there--the Iraqi regime.
Unidentified Woman #1: (Foreign language spoken) The Baaths--it's called the Baaths--the Baath Party.
SOLOMON: Baath Party--the Baath Party.
AKBAS: (Foreign language spoken)
SOLOMON: Not all Iraqis understand this opinion because there are backward minds and there are people that want another thing to come back to what it was. OK.
Unidentified Man #3: What percentage of the country shares your opinion?
SOLOMON: (Foreign language spoken)
AKBAS: (Foreign language spoken)
SOLOMON: Ninety-nine percent.
Unidentified Woman #2: Oh, wow.
ANESSA (Palestinian Student): Hi, my name is Anessa. I'm from Palestine, Gaza Strip. For me the most important thing for the Americans and for us as Palestinians that the Americans consider anybody who's killing the soldier as a terrorist but we are not like that. We hate blood. We hate killing. We hate being under occupation. We hate terrorists. And the ones that our problem with is Israeli government and Israeli soldiers. We don't have any problem with the Israeli people. We want to live with them in peace, but when the Israeli soldiers come to our country, killing our women, our men, our youth, we have to defend ourselves. And when we defend ourselves, they consider us as terrorists. That's it.
SULTAN (Omani Student): My name is Sultan from Sultanate of Oman. I think that the American government misunderstood the Arabic people. They made a lot of foes by attacking Iraq because Iraq is now a nest of fundamentalist people who are making problems for us, for the Muslim people, because they are not representing us because they are against us. So Iraq now is a problem not just for America but also for the Arabic people. Thank you.
NOAR(ph) (Saudi Arabian Student): That's what I think. Maybe because Muslims mostly are frustrated. Everything is now against us, you know. So maybe someday their voice will be louder because I also heard that the most religion increasing here in the United States is Islam. Right, day by day it's increasing so--and you're the most powerful country in the world. So then they might come--leaders from your country--and speak out the real Islam and how peaceful it is. OK. My name is Noar and I'm from Saudi Arabia.
Unidentified Woman #3: You know, our children now can distinguish the voices of the guns and the weapons. Aha, this is called Apache, this is called F-16. So it's really miserable. It's really not good when a child knows the names of tools of destruction instead of names of toys and playing as a normal child.
HALA(ph) (Syrian Student): Hi, I'm Hala from Syria. I'd like to say that we are all--after all, we are all human beings, and people in our countries think the same way people here think. You don't have to feel the superiority to others. OK? We always feel that you always feel that you are superior to us. OK?
Unidentified Man #4: One more point that American troops are not able to hold the grip in Iraq and forbid terrorism. The same thing occurs for our leaders. We are not able to forbid terrorism and we are not to blame for this because America, this great force, is not able to forbid terrorism in Iraq. How can we, the Third World and our underdeveloped countries? That's it. Thank you.
Unidentified Woman #4: I have a point of view about Islam and this issue. Our original book and our only book is holy Koran. Our prophet and the holy Koran always say don't kill women, don't kill children, don't burn a tree, don't destroy a home. And what the people now are doing, killing people, this is not our Islam. For example, our prophet say when there is a war you have to fight. They stop at this point. You have to fight. Fight for who? Fight where? It doesn't matter. You know, they talk the beginning of a sentence and they stop. Continue for this saying. You have to fight soldiers. There is a war, there is a fight, fight the soldiers. Never fight the people.
Unidentified Man #5: Also the extremists in any religion would interpret anything just to make an excuse for their extremists.
Unidentified Woman #4: In our church that people are extremists only in religion and politics, and they are the two--the only two problems in the world. OK?
(Soundbite of song)
Group of Students: (Singing in foreign language)
BRAND: The voices of Arab college students. That piece was produced by Barrett Golding for the Hearing Voices radio project.
(Soundbite of song)
Group of Students: (Singing in foreign language)
BRAND: DAY TO DAY returns in a moment. I'm Madeleine Brand.
---