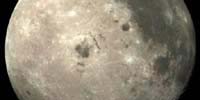 Transmissions from the last lunar life.
Broadcast: Jun 25 2004 on WNYC Radio Lab Subjects: Science, Travel, Technology
APOLLO 17
January 3, 1998 from WEEKLY EDITION
DANIEL ZWERDLING, HOST: Twenty-five years ago today, an era of real-life space travel came to an end when American astronauts left the moon for the sixth and last time. As part of the series "Hearing Voices," producer Barrett Golding pulled together some highlights of the Apollo 17 mission, with music by Jeff Harnston (ph).
(BEGIN AUDIO CLIP FROM APOLLO 17 MISSION)
NASA ANNOUNCER: Ignition sequence. All engines are started. We have ignition. Two, one, zero. We have a lift-off.
We have a lift-off and it's lighting up the area. It's just like daylight here at Kennedy Space Center. The Saturn 5 is moving off the pad.
(SOUNDBITE OF SATURN FIVE BLASTING OFF THE GROUND)
ASTRONAUT: We're right over South America. And of course we can see up the Gulf Coast. And it looks like Houston's covered with clouds.
ASTRONAUT: Hey, I just saw a flash on the lunar surface. Just a pinprick of light.
ASTRONAUT: OK, I got the landing site. We're right over the top of it.
NASA ANNOUNCER: (Unintelligible), go for landing.
ASTRONAUT: Oh, are we coming in. Oh, baby. Stand by to touchdown. Ten feet. Contact. OK, Houston, the Challenger has landed.
NASA ANNOUNCER: This is John Terr (ph), that's super.
ASTRONAUT: Houston, you can tell America that Challenger is at Taurus Literal (ph).
ASTRONAUT: We'd like to dedicate the first step of Apollo 17 to all those who made it possible. OK, I'm out here. Oh my golly! Unbelievable! Let's walk around for one second.
(SOUNDBITE OF ASTRONAUT CHEERING)
ASTRONAUT, SINGING: I was strolling on the moon one day...
ASTRONAUTS, SINGING IN UNISON: In a merry merry month of...
ASTRONAUT: December.
ASTRONAUT: May.
ASTRONAUT: May.
ASTRONAUT: Hey, there is orange soil. It's all over.
ASTRONAUT: Hey, it is! I can see it from here!
ASTRONAUT: It's orange.
ASTRONAUT: Here, man completed his first exploration of the moon, December, 1972, A.D. And as we leave the moon and Taurus Literal, we leave as we came, and God willing, as we shall return, with peace, and in hope for all mankind.
Godspeed the crew of Apollo 17.
---