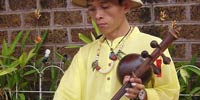 The Pin Pia, a traditional Thai stringed instrument.
Broadcast: Oct 20 2006 on NPR Day to Day Subjects: World, Travel, Music
The Pin-Pia Players of Chiang Mai
October 20, 2006 from Day to Day
ALEX CHADWICK, host: How do people get these jobs? Producer Jack Chance is traveling the globe collecting local and traditional music. In Thailand at a street market, he came across a man playing a haunting stringed instrument called a pin-pia, so Jack sent this radio postcard.
JACK CHANCE: It's Sunday afternoon on the street bazaar in Chiang Mai, Thailand. Tourists gawk and locals hawk their wares in a river of ethnic handicrafts, pirated DVDs and over-driven stereo speakers. Then, on a corner outside a Buddhist temple, a man holds a strange instrument to his chest. He plucks a string, and a quiet sound stops the parade. (Soundbite of music) CHANCE: This instrument is called the pin-pia, and according to my new friend here, there's only about 50 people who can play it. Mr. MANOP THAMADUMPINS(ph) (Music Teacher and Luthier): (Speaking foreign language) CHANCE: His name is Manop Thamadumpins. He's a music teacher and luthier, specializing in traditional Lana music. Lana was an old kingdom in northern Thailand that included parts of Burma, Laos and southern China. Mr. THAMADUMPINS: (Speaking foreign language) CHANCE: Manop tells me there are thousand-year-old stone carvings with pin-pia players engraved on them. (Soundbite of music) CHANCE: The rippling effect comes from a coconut cup attached to the neck of the instrument and rocked against the chest, releasing the unique sound. (Soundbite of music) Mr. THAMADUMPINS: (Speaking foreign language) CHANCE: Manop tells me that the name of the instrument, pin-pia, means strong. Hundreds of years ago, a king of Chiang Mai banned the instrument because its sharp tuning pegs could potentially be used as a weapon by unruly musicians. (Soundbite of music) CHANCE: Something this mellow, a danger to the crown, it makes me wonder. You can find Manop every Sunday afternoon playing these songs along the street bazaar in Chiang Mai, Thailand. For NPR, I'm Jack Chance. (Soundbite of music) CHADWICK: That postcard from Jack came to us from the Hearing Voice Radio Collective at hearingvoices.com. (Soundbite of music)
---