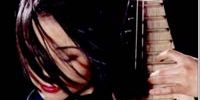 Wu Man, Master of the Pipa 5:14 Dmae Roberts
The 2000-year-old stringed instrument.
Broadcast: Sep 4 2003 on KQED Pacific Time Subjects: International, Classical, Music
Amazing Pipa
by Dmae Roberts
iNTRO: Wu Man is an internationally renowned pipa virtuoso and cited by the Los Angeles Times as 'the artist most responsible for bringing the pipa to the Western World.'
Born in Hangzhou, China, Wu Man studied with Lin, Shicheng, Kuang, Yuzhong, Chen, Zemin, and Liu, Dehai at the Central Conservatory of Music in Beijing. She currently lives in Boston where she was selected as a Bunting Fellow at Redcliffe institute of Harvard University. Wu Man was selected by Yo-Yo Ma as the winner of the City of Toronto Glenn Gould Protege Prize in music and communication. She is also the first artist from China to have performed at the White House with the noted cellist with whom she now performs in the Silk Road Project.
Since moving to the USA, she has continued to champion new works and have inspired pipa literature from composers Terry Riley, Philip Glass, Lou Harrison, Tan Dun, Bright Sheng, Chen Yi, Zhou Long and many others.
Wu Man's upcoming season include the global tour with Yo-Yo Ma's Silk Road Project; World premier The concerto for piano, cello and pipa by Bright Sheng written for Yo-Yo Ma, Emanuel Ax, with the New York Philharmonic; Philip Glass and David Henry Hwang's New Theater work 'Sound of A Voice' with the American Repertory Theater in Boston; A new quintet piece with Kronos by Terry Riley.
This piece was first heard on Pacific Time and made possible with funding from Hearing Voices through Corporation for Public Broadcasting.
WU MAN: My name is Wu Man, and I play the pipa for over 20 years. It's a pear-shaped lute kind of instrument with four strings. A-D-E-A - that's open-stringed tuning.
MUSiC
The pipa music has two styles. One is called lyrical. Slow and lot of vibratoo. The music always describes scenery, like water, moon, river. Kind of like Chinese painting. And the other one we call martial style, which is very dramatic and it's kind of like story telling, imitating battles, we have a famous piece called "Shih Mien Mai Fu", "Ambush From All Sides." That's the two traditional styles, but the rhythm is very square which is always
SHE PLAYS
You know, during 80s, early 80s, the Chinese government opened doors to the West and that time we… first time I heard pop music, first time I heard rock'n'roll, I heard jazz. All my schoolmates, they played violin, they played piano or they were all composers, they said "Hey Man, I'm leaving tomorrow, I'm leaving next week."
i said "where are you going?"
"I'm going to Europe, I'm going to America."
i said "What? What about me?"
i said I wanted to know, I wanted to learn how the musicians in different world, in other countries, that's the reason I moved here.
MUSiC
We have frets. We can play any kind of tune, but the rhythm is very very different. I really enjoyed it, I really liked it. Of course it's different with the traditional pipa music.
MUSiC
Definitely i've been through a lot of difficult times because when I came here I didn't speak English at all, and I didn't know any of the culture, the music, everything...
MUSiC
i remember when I came here the first time I played in New York Chinatown, with the Chinese community, and some audience came to me and said "what is that instrument?" and nobody really interested in Chinese music but fortunately I think now it's Asian culture or Chinese culture became… people pay attention, people really want to know, and so I think that's a great time for being a Chinese musician.
MUSiC
Challenge is to what's next? How can I reach more, especially younger generation to understand, not only in America also in China as well, to understand traditional music, or to understand music.
Now, I have a couple of teenage students and also I have a little boy, eight years old. He came to my concerts and he really wanted to learn pipa. (laughs) Every time I play all the kids come to me and "wow, this is a cool instrument, I want to learn!" So, that's the hope...
MUSiC
---