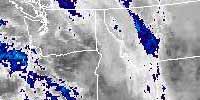 Seattle Weather 1:50 Jake Warga
Seattle residents discuss Northwestern weather.
Broadcast: Sep 16 2003 on NPR Day to Day Subjects: Environment
Interview: Pete and Stephan discuss the effects of weather on Seattle residents
September 16, 2003 from Day to Day
ALEX CHADWICK, host: As the East Coast readies for a hurricane, it's cool and overcast in Seattle, which sounds about normal for a city known for dreary weather. But this summer there has been unusually pleasant, more than 50 consecutive days of sunshine. Surely such grace is not free, or so some assume. The DAY TO DAY assignment desk sent Jake Warga to gather Seattle park-bench weather wisdom. And here is some.
PETE: Studies out of University of Washington, weather that I'm talking about, how it affects people. Highest rate of alcoholism, drug addiction, and suicide here in the Northwest. Seattle.
STEPHAN: Not to mention we have the third-highest unemployment rate in the nation. It's depressing, really. And that's why the suicide rate is so high in the area. I mean, it's green, it's beautiful. When it's like it is now, oh, it's wonderful and it's beautiful and all this. But, you know, people in this area, they go, one way is too hot, oh, I'm sick of the rain, and all this and that.
Seattle's a great international city, but I don't like the weather.
PETE: It doesn't have four seasons. It only has two. So half, if not more than half, of the year, we're all covered up. And then all of a sudden, hey, man, we start peelin' it off.
STEPHAN: Now is like Mr. Pete was sayin', it's the fringe benefits 'cause the ladies are out.
CHADWICK: Longtime Seattle residents Stephan and Pete. And assignment desk thanks to producer Jake Warga.
This is DAY TO DAY from NPR News.
---