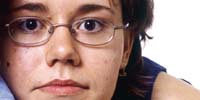 A Polish vacationer relocates.
Broadcast: Jan 27 2004 on NPR Day to DaySeries: Crossing the BLVD Subjects: Family, International
Profile: Young Polish woman's view of America
January 27, 2004 from Day to Day
ALEX CHADWICK, host: Poland's president, Aleksander Kwasniewski, is in Washington for official diplomatic business: the war in Iraq, the war on terrorism, trade issues. On a far less serious mission, here is a story about a young Polish woman, Joanna Pittner, who came to this country on vacation with her parents just visiting, or so she thought.
Ms. JOANNA PITTNER: (Polish spoken) This was supposed to be my summer vacation and I was supposed to come and visit my dad. And I came with my brother and then my mom came and then they just decided to stay. I thought it was going to be, like, this huge house like I see in the movies, like this big mansion. And I just go up the stairs and it's, like, a thin hallway and the house was one long house. And it was divided into two rooms and a kitchen. It was worse than in Poland. It was bad. It was bad.
It was so small and the bathroom was, like, oh, so small. Everything was tiny. I expected this, like, gorgeous house and--I don't know, it was just bad. 'Cause you don't see, like, those really small apartments on TV. You just see those really nice, big houses. I don't know, but it was worse than in Poland. It was bad. I don't know.
A couple of weeks later, my mom came, maybe like a month so then the whole thing started about, like, me staying. And I told them that I didn't want to stay. Without asking, no asking, they're just like, `We're going to try to live here. If you don't like it, we're going to go back.' And the funny thing is that I didn't like it.
So I went to school and I was just sick, I was throwing up every morning, I had diarrhea, everything. It was the worst. It was really bad. I was crying for half a year. They lied. They knew that we were going to stay. They just didn't want to tell me 'cause they knew that I wouldn't get on the plane in the first place. I didn't talk to them at all for a very long time. They asked me something and I would answer, but I would never start the conversation with them. Never. Never. Yes, no, yes, no, no, yes. That's it.
CHADWICK: Joanna's story from producer Judith Sloan for a public radio series on immigrants and refugees living in Queens, New York. The series is called "Crossing the BLVD."
(Soundbite of music)
CHADWICK: This is DAY TO DAY from NPR News.
---