Neighborhood Stories
Katie Davis
( = )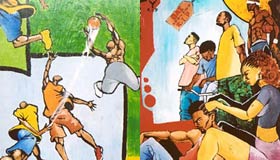 A Walk in the Park (33:00)- From a series of audio and photo portraits at All Things Considered.
The neighbor kids call her Katie Divas. She has lived most of her life in Adams Morgan, the heart of Washington DC. Her community is the core of her work and play; in her op-ed pieces for the Christian Science Monitor, Washington Post and Hope magazine, and in her stories for NPR All Things Considered and PRI This American Life.
Sez Ms. Divas: "I live on the block I grew up on and I now work there too. Neighborhood Stories is an ongoing public radio series that began in l999. The goal is to create an audio blueprint of one inner city neighborhood through the collected stories of my neighbors, local politicians and merchants. I want to capture the raucousness of my neighborhood: the feuding, the loving, the joking and the crying- all the contradictions of this one place. Of life."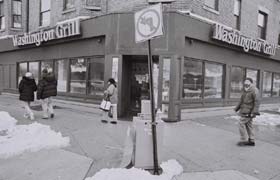 Curse of Stinky (19:08)- Bad location, location, location; a storefront's story on This American Life.
---
American History at 1801 Columbia Road
by Katie Davis
When I think of 1801 Columbia Road, I always think of Nixon.
In the summer of l971 my neighborhood was the hub of anti-war activism. My street had the May Day commune, Black Panthers and the anti war leader Rennie Davis.
One night around 11 o'clock, Marc Raskin, the father of my best friend, Ericka, walked her and I down to 18th and Columbia Road to buy a copy of the Washington Post. We went inside 1801, which at the time was Eddie Leonard's, and sat with the night crowdÑpeople like Big Reg and Carl, a bouncer.

Carl (0:30)- The Columbia Station bar's bouncer recalls 1801's heyday.
Marc Raskin opened the front section to the big story: a newly leaked document called "Nixon's enemies list." He read aloud from the list of names, including his. Though he suspected the worst from President Nixon, he still was shocked at the calculated politicaltargeting. My friend Erika was just scared. She still remembered when her father was tried for conspiracy in Boston with Dr. Spock for burning draft cards, the phone taps and FBI agents outside.
Sometime around then, Eddie decided to sell his sandwich shop. Thirty five years later, we still love to speculate about the problem with 1801 Columbia Road.

Donald (0:37)- Why businesses fail at 1801: a building super's theory.
After my story aired on This American Life, Mary Abbajay, the owner of the Toledo Lounge (two blocks south), cornered me and said, "My store was cursed too, why donÕt you interview me?"
Mary explained she and her sister were getting ready to open in l994. While they were painting, the gypsies, who rented the floor above them for fortune telling, came down to warn them, "Every business that opens here, fails."
Mary says, "The gypsies told us to burn sage and place brooms in the corners with red ribbons tied on them. We also did clearings, which involved walking around the space several times clockwise and then counter clockwise." Mary remembers that she didn't flinch when told about the rituals, "I did them wholeheartedly and enthusiastically. After all, I am a business woman and it seemed to make sound financial sense at the time."
A decade later, the Toledo Lounge is an anchor in the neighborhood, still going strong.
---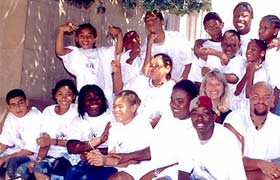 Jesse's Story (22:02)- a scholarship from public to prep school, two reports on All Things Considered.
Sez Ms. Divas: "I am the founder (1995) of a neighborhood youth group -- Urban Rangers. I have worked with dozens of young people, age 10 years to 24 years old. The youngsters are Latino and African American. I do a little bit of everything with these kids -- repair bicycles, hike, landscape, coach basketball, tutor, counsel, encourage them, match kids with mentors and therapists, find internships for them and help their families when they face job loss, addiction or eviction."
More Neighborhood Stories: Scene of the Crime and The Ratman Cometh on This American Life, Basketball Diaries on Third Coast Festival. Ms. Divas wrote "Shout Out: A Kid's Guide to Recording Stories" for Transom.org. Her Christian Science Monitor essays include "Don't just clutch your purse, look a kid in the eye" and "Arm children with a better weapon." Katie was interviewed on Humankind. She also hosted our (((Hearing Voices))) hour-special Old School, which included her "Hike to Rock Creek" and "Carried You" stories.