Blumberg, Alex/Archives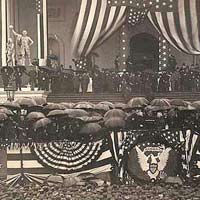 Hearing Voices from NPR®
026 Prime Candidates: Portraits of Past Presidential Primaries
Host: Barrett Golding of Hearing Voices
Airs week of: 2011-12-28 (Originally: 2008-08-27)
"Prime Candidates" (52:00 mp3):
The plight of pols on the campaign trail:
From the 1980 primary: politicians who fancy themselves president tromp thru the mill town of Claremont, New Hampshire. Produced for NPR by Larry Massett and Art Silverman, with Betty Rogers.
"Democracy and Things Like That" (2000 / 22:50)
Sarah Vowell
From the 2000 primary: The media spin myths out of misquotes; produced by Alex Blumberg and Ira Glass for the "Primary" episode of This American Life.
From the 2003 California Gubernatorial Recall: Douglas Fleishut and the Language Removal Service concoct the world's first wordless political debate in their "California Recall Project."
From the 2008 primary: Losers in the March "Super Tuesday" vote re-appear, w/ music by Robert Wyatt and Bruce Springsteen, from Peter Bochan's series Presidential Shortcuts.
Photo: Chief Justice Melville W. Fuller administering the oath of office to Benjamin Harrison on the east portico of the U. S. Capitol, March 4, 1889; from the Library of Congress "I Do Solemnly Swear…": Presidential Inaugurations.
We're all looking forward to this week's economic news.
No, not what Congress does; I'm talking about the upcoming This American Life episode: "Another Frightening Show About the Economy."
It's by TAL's Alex Blumberg and NPR's Adam Davidson of TAL "Giant Pool of Money" fame.
Listening to the two's work on the new NPR Planet Money podcast and blog reminded me how damn good they are. AdamD's the econ extraordinaire guy for NPR. And AlexB of TAL and NPR, well, I gotta ask…
Is Alex Blumberg the best reporter on the planet?
His little asides make a story, like from this report on SEC Chair Chris Cox and the stock-trading practice of Naked Short-Selling:
"It gets confusing, as it often does, when you get to the naked part."

"Fannie Mae and Freddie Mac, despite having names a child might give a puppy, are… well, were…"

Planet Money "Naked Short Selling, Meet Moral Hazard" (27:27 mp3):


Audio player needs Flash9+ (download) and JavaScript.
And there's this AlexB blockbuster: "What's In A Number?" The TAL topic was a report on Iraq civilian casualties. Alex transformed it into an insightful portrait of both the science and humanity in statistics.
A recent NY Times article,  "Daring to Say Loans Made No Sense," is devoted to TAL's "Giant Pool:"
"One of the remarkable things about the report is the absence of evildoers…"

"Market appetites for anything that resembled a mortgage pushed loan standards down: 'No income, no asset. You don't have to state anything. Just have a credit score and a pulse.' (Mr. Blumberg pointed out that the pulse thing was optional: 23 dead people in Ohio were also approved.)"
Alex/Adam also just offered this cheerily titled story: