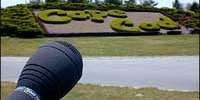 A young man put his costume together.
Broadcast: Oct 27 2003 on NPR Day to DaySeries: WCAI/WNAN Sonic IDs Subjects: Holidays, Cultural
Commentary: Child's ideas for a Halloween costume
October 27, 2003 from Day to Day
ALEX CHADWICK, host: Kids, do not let Mr. Unger's notions about Halloween dampen your own holiday spirit. Certainly he's not going to discourage young Ben Biankini(ph) of Woods Hole, Massachusetts.
BEN BIANKINI: I think I will be Wolverine from "X-Men." Oh, yeah, like I might be, like, the Creature from the Black Lagoon, like, dragon arm, painting my arm with scales, like making big claws out of cardboard. And the other arm, a knight's arm, like we could buy this fake armor or something. And then we could--for the--Bigfoot we could shape it like maybe out of--take a shoe and put some cardboard around it. (Soundbite of door opening) CHADWICK: Ben Biankini. Viki Merrick produced that piece for Transom.org and radio stations WCAI and NAN in Massachusetts. This is DAY TO DAY from NPR News.
---