2009-11-04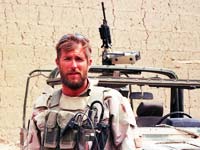 Hearing Voices from NPR®
075 Veteran's Day: Iraq and Afghanistan Vets
Host: Barrett Golding of Hearing Voices
Airs week of: 2011-11-09 (Originally: 2009-11-04)
"Veteran's Day" (52:00 mp3):

Voices from the Armed Forces men and woman who fight our wars:
"Iraq and Afghan Combats" (1:15)
from YouTube
Go to YouTube, search for: Iraq Afghanistan combat footage. You'll get lotsa hits.
"Primary Sources" (0:51)
Sergeant Helen Gerhardt
This former National Guard Specialist has "surrendered the force that I carry, the weapon to those elected officials chosen by the American people." She hopes the people inform themselves and choose wisely.
"Arabic Interrogator" (1:30)
Sergeant John McCary
A U.S. Army soldier reports: "When you speak Arabic, you become the interface with the local population — which is 99% of the work in a counter-insurgency." (McCary is a Truman National Security Project fellow; his January 2009 article in the Washington Quarterly was "The Anbar Awakening: An Alliance of Incentives" –pdf.)
US and Iraqi Special Operations Forces conduct a combat operation inside Sadr city, Baghdad in order to capture known insurgents and terrorists. The operation was conducted on an undisclosed date/time in support of Operation Iraqi Freedom. US Army video by: SSG Ryan C. Creel.
"Healing Waters: Capn Eivind Forseth" (5:17)
Barrett Golding
From an HV/NPR series: Retired Navy Captain Ed Nicholson is an avid fly-fishermen. He realized fishing would be good therapy for disabled veterans. So he hooked up with Trout Unlimited and the Federation of Fly Fishers, and with private donations and volunteer guides, they began teaching wounded vets, including many amputees, how to fly-fish. Project Healing Waters, now regularly takes vets on these therapeutic fishing outings. These interviews were recorded in 2007 on Virginia's Rose River Farm.
"Operation Homecoming: Among These Ruins" (3:30)
Sergeant Helen Gerhardt
From an HV/NPR series: A Specialist in the Missouri Army National Guard reads from her email to family and friends about her first few days in Iraq, part of the NEA book/writing project Operation Homecoming. Guitar by Jess Atkins. (Read Ms. Gerhardt's NYTimes article "Modern Love; Back From the Front, With Honor, a Warrior's Truth".)