2008-08-06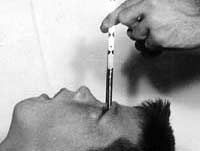 Hearing Voices from NPR®
023 This is Insanity: Disturbed Mental States
Host: Scott Carrier of Hearing Voices
Airs week of: 2010-03-03 (Originally: 2008-08-06)
"This is Insanity" (52:00 mp3):

A survey of disturbed mental states:
With the music of Disposable Heroes of Hiphopcracy (rapper Michael Franti and percussionist Ron Tse), from the 1993 CD Spare Ass Annie and Other Tales.
"Electroshock" (3:42)
Anon.
A first-person account from an anonymous reporter of his experience undergoing ElectroConvulsive Therapy.
Music from the Australian mashup/cut-up artists 2000 CD Since I Left You.
Our host travels the Utah backroads testing folk for schizophrenia.
The narrator is pathologically challenged by time, and the stories societies tell themselves, excerpted from the 2006 radio hour "Time's Arrow."
Howard Dully traces the reasons and repercusssions of his transorbital or "ice pick" lobotomy, a radical new procedure in the treatment of mental illness in this country, pioneered and performed by psychiatrist Walter J. Freeman.
Produced by Dave Isay and Piya Kochhar, with help from Larry Blood, Eliza Bettinger, Brett Myers, Jessica Tickten, Anna Goldman, Maisie Tivnan, Colin Murphy and Jonah Engle Narratored by Howard Dully; edited by Gary Covino. Jack El-Hai was project advisor. Special thanks to: Barbara Dully, Andrew Goldberg, Christine Johnson, Lyle Slovick & David Anderson at the GWU Gelman Library archives. Funding provided by the Corporation for Public Broadcasting with additional support from the National Endowment for the Arts.