2008-10-15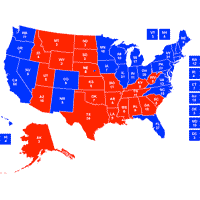 Hearing Voices from NPR®
033 Political People: On the Campaign Trail
Host: Barrett Golding of Hearing Voices
Airs week of: 2010-10-13 (Originally: 2008-10-15)
"Political People" (52:00 mp3):

In 1992 producer Barrett Golding found remnants of Jefferson's theories and Toqueville's writings still very much in play, as he followed Montana's two incumbents US Representatives, one Democrat, one Republican. Due to re-apportionment, they were vying for the state's one remaining Congressional seat, on a yearlong statewide game of political musical chairs. (Image above-right: Presidential Electoral Vote map, 1968-2008, animated, see full-size here.)
And Jonathan Menjivar documents Harold Washington College and University of Chicago students discussing "Dreams of Democracy" (audible | PRX) part of the WBEZ series Chicago Matters: Our Next Generation.
Original songs by Greg Keeler and instrumental music by Jeff Arntsen of Racket Ship.