2009-02-18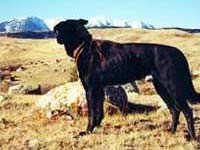 Hearing Voices from NPR®
051 Dog Tales: Barks, Bites, Best Friends
Host: Barrett Golding of Hearing Voices
Airs week of: 2010-04-07 (Originally: 2009-02-18)
"Dog Tales" (52:00 mp3):

A canine compilation — the dogs have their day:
The producer plays frisbee with a sightless German shepherd.
This commentator can't connect with his family's canine, off his collection of Stories off the Shallow End.
A musician mixes a multi-bark audio art composition.
In 1984 people told producer about their dogs and their dog's dreams, produced with Christina Eggloff for their series Animals and Other Stories, with funds from the New York State Council for the Arts and the National Endowment for the Arts.