2012-08-24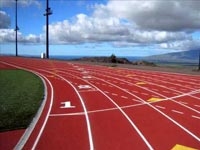 Hearing Voices from NPR®
139 Sports Report: Athletic Endeavor
Host: Barrett Golding of Hearing Voices
Airs week of: 2012-08-22
"Sports Report" (52:00 mp3):

The producer's wife likes to swim at night, far out into the lake. She was taught long ago how to effortlessly, and beautifully, skim across the water. Aired originally on This American Life "Lessons".
Mashup master GHP, aka, Mark Vidler, mixes Queen's sports stadium classic, "We Will Rock You
," with AC/DC, Led Zeppelin, Crowded House and a bit of Beatles, Outkast, and Snoop Dogg. Download off GHP's This Was Pop 2002-2007.
"We Believe We Are Invincible" (9:20)
Ben Rubin
The U.S.A Track and Field Hall of Fame commissioned sound-artist Ben Rubin, of EAR Studio, to make audio art from interviews with athletes.
A gay man gets to know the game. Edited from Mark's essay, Football & the Homosexual Brain.
"Basketball Diary" (1999 / 13:26)
Katie Davis
The producer spent the winter coaching a boys basketball team in her Washington, DC neighborhood. The boys' grades aren't good enough to play for the school, so they join a local church league. And Katie Davis starts more as counselor than coach. Originally aired on NPR. Part of the producers Neighborhood Stories series.
"He Got Game" (1998 / 2:00 excerpt)
From the soundtrack to Spike Lee's film, off the album Power To The People And The Beats – Public Enemy's Greatest Hits [Explicit]
(also: clean version
). Features Voices Of Shabach Community Choir Of Long Island, Stephan Stills and samples from his Buffalo Springfield song, "For What it's Worth
."
Spin class gets personal, with Chet Siegel as Sam, Emily Tarver as Lisa, Ed Herbstman as Kirk. Written collaboratively by The Truth, from a story by Chet Siegel. Special thanks: Peter Clowney, Kerrie Hillman, and Chris Bannon. Recorded at WNYC and on location in New York City. The Truth podcast is produced by Jonathan Mitchell (also on PRX.