2010-01-06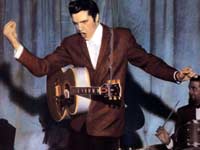 Hearing Voices from NPR®
080 Elvis Aaron Presley: Birthday Party
Host: Barrett Golding of Hearing Voices
Airs week of: 2011-01-05 (Originally: 2010-01-06)
"Elvis Aaron Presley" (52:00 mp3):

Elvis Presley (born Jan 8 1935 Tupelo, Mississippi; died Aug 16 1977 Memphis, Tennessee), a 75th Birthday Party fit for a King, with fans, friends, religion and rockin':
Interviews from the Elvis archives, and new ones with Gordon Stoker of The Jordanaires (Elvis' backup singers) and Elvis friends (aka, Memphis Mafia) Jerry Schilling and Patty Parry. Produced by Paul Chuffo and Joshua Jackson of Joyride Media, for the Sony Elvis 75 project, which has more music and interviews. Also check Joyride's other Elvis hours: The Early Years, In Memphis, and He Touched Me- Elvis Gospel Music.
From 1954, the second Sun Records release by Elvis Presley. Taken from the box Elvis 75 – Good Rockin' Tonight

.
Chuck Denault is a Police Officer for the small town of Kittery, Maine. He has two passions;: Serving the community he lives in and being the best possible Elvis Impersonator he can be. In April of 2003 the producer went for a squad car ride-along for some behind the scenes aspects of law enforcement and Elvis.
"That's Alright Mama" (excerpt)
Elvis Presley
In August 1954 Elvis performed his brand new single on the Louisiana Hayride. Taken from the collection The Legend Begins.
"Elvis Fans" (excerpts)
Elvis Presley
"Elvis Fans' Comments/Opening Riff" and "Elvis Fans' Comments III" from 1977 Elvis In Concert.
"Are You Lonesome Tonight? (Laughing version)" (2:53)
Elvis Presley
Special Bonus Track on the 1982 collection Hitstory- The Story Continues.
The singer expounds her biographical song "Elvis Presley Blues". Producer by David Schulman for MITOW series (site | NPR | PRX).