2010-10-27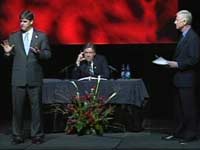 Hearing Voices from NPR®
103 Political Party: For Election Season
Host: Barrett Golding of Hearing Voices
Airs week of: 2010-10-27
"Political Party" (52:00 mp3):

Let's rev-up this election process with a cross-county Political Party:
Salt Lake City Mayor Rocky Anderson publicly debates FOX News host Sean Hannity. The spectacle took place inside a chasm called Us versus Them. Produced in 2007 for This American Life; music: Rickie Lee Jones, "Nobody Knows My Name" from Sermon On Exposition Boulevard.
Politics can be frustrating. It can make you scream — which made one Presidential candidate became famous for. Here's Howard Dean's scream put to music (more mixes at James Lileks' Bleatophony).
From the 1980s archives, we present this pre-teen perspective on our government's founding document.