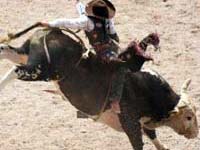 Hearing Voices from NPR®
065 Cowboy: Cheyenne Frontier Days
Host: Josh Darsa of NPR
Airs week of: 2010-07-28 (Originally: 2009-07-22)
"Cowboy" (52:00 mp3):

Host Josh Darsa of NPR spends nine days with rodeo riders in a rural Wyoming town:
This 1980 classic radio doc from the NPR archives visits Cheyenne Frontier Days, "The Daddy of 'em All."
Along the way, Darsa digs into the the history of the "cowboy," mixing in the experiences of Baylis John Fletcher on an 1879 cattle drive, herding 2000 longhorns from Texas to Wyoming (read by Paul Blakemore from the book Up the trail in '79.
And underscoring it all is the wild-west symphonies of Aaron Copland.
Josh Darsa wrote and narrated. The technical director and recording engineer was John Widoff, assisted by Miles Smith, Dave Glasser and shop technician Bob Butcher.
"While we were at the rodeo, Josh Darsa wanted to record multiple vantage points of a single scene. For instance, I'd have a Nagra tape recorder on the roof of the grandstand and Miles Smith would have a Nagra in the chutes where the riders would bust out for their ride. Then we would have a free-running Nagra III on the rodeo announcer. We ran them in sync kinda like you would do in video with multiple cameras. This gave us three vantage points. During the show you hear the perspective change through cross fading which is a result of these different but simultaneous perspectives.

There must have been 70 hours or more of tape we shot out there in Cheyenne and every single thing got dubbed. What you heard in the halls of the old NPR were rodeo sounds coming from RC1. Constant horses, bulls, things crashing, just all kinds of things. I think it drove people nuts hearing this stuff up and down the halls.

This was the height of my career at NPR. It was a combination of everything… the music recording, the production sound recording, interviews… every single thing that I had ever done for this company all came together in this show. This was probably how Walt Disney felt when he made Mary Poppins. It was a dream come true for me to build something like this. 'Cowboy' is the kind of show you would listen to in a darkened movie theatre. The writing is spectacular."
–John Widoff, "'Cowboy,' a Study in Radio Tale-Telling"
Read the entire interview.
More Josh Darsa at NPR.org: "An Italian Mosaic" (1978) | "Josh Darsa Obituary" by Alex Chadwick (2000)