The latest of our HV Podcasts is: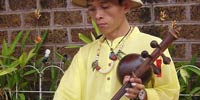 Pin Pia by Jack Chance (2:46)
In a Thailand market, Manop Thammadoonpinij, a music teacher and luthier, performs traditional songs on a haunting little-known ancient stringed instrument, the Pin Pia. (Collected along the travels of the Mountain Music Project).

We put new noise up every Monday. Tomorrow a piece by Ceil Muller.