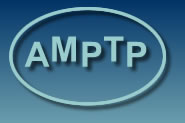 The Hollyweird writer's strike pits the wits of the Alliance of Motion Picture and Television Producers (AMPTP) against the pens the Writers Guild of America (WGA). Well, online at least, the WGA pens have the AMPTP pinned. AMPTP.org never got around to registering AMPTP.com, but WGA did. Sez Deadline Hollywood Daily of this "satirisite":
It looks almost identical, too, down to those Did You Know? factlets. (Example: Six out of 10 non-Judd Apatow movies never recoup their original investment… "Writer" comes from the Latin ritem meaning "unhygienic and doughy.") This is what clearly happens when writers have way too much free time on their hands.
From the AMPTP.com home page:
We are heartbroken to report that despite our best efforts, including sending them a muffin basket, making them a mix CD, and standing outside their window with a boombox blasting Peter Gabriel songs, our talks with the WGA have broken down.

While we're not going to point fingers or assign blame, we do feel justified in saying that they are entirely at fault.

Why does the WGA hate freedom and democracy so much?