Day 1 of the Iditarod is tomorrow. One of the qualifying races was held a few weeks ago, is the John Beargrease Sled Dog Marathon, named for the son of a Chippewa chief who delivered mail by dog sled along Lake Superior's rugged North Shore in the late 19th century. Launched in 1981, the Beargrease draws world-class sled dog teams from around the globe. The Beargrease is the longest, and most challenging, of sled dog events in the lower 48: almost 400 miles and 4000 spectators, starting in Duluth, Minnesota on the last weekend of January. Field-recordist Curt Olson gathered the sounds of the dogs, the mushers and the fans, "Beargrease Sled Dog Marathon" (7:00 mp3):

Curt has more sounds at Track Seventeen. And a shorter version ran on Weekend America with a photo gallery.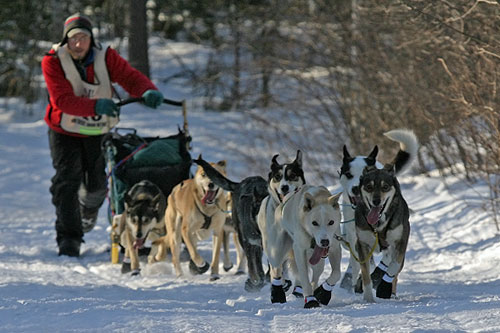 (Photo: © Kit Larson) Keith Ali on the trail on the second day of the 2006 Beargrease Sled Dog Race.