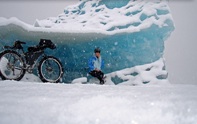 NPR webseries, Biking the Iditarod:
"Jill Homer, of Juneau, Alaska, is training to ride her bicycle in the Iditarod Trail Invitational — 350 miles of wintry pedaling over tough terrain. It's the same course used by the famous sledding race."
Her blog: Up in Alaska- Jill's Subarctic Journal:
"Jill is an Alaska journalist who likes to bicycle in horrendous conditions and eat goldfish crackers and Pepsi for breakfast. Jill records her daily adventures in pictures and words."
Jill encounters a Juneau native: NPR: Wolf Versus Pug.